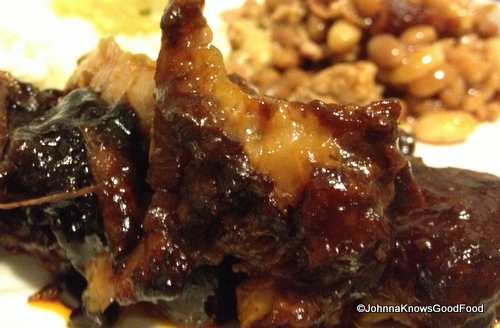 Five years ago on the evening of November 15, 2007, I was sitting at my computer thinking of all the things I wanted to tell my friends about my most recent visit to a restaurant called Matchbox.  During this same thought process I also wanted to share the recipe for the crab dip I was infamous for having on deck whenever someone came to visit my upper NW Connecticut Avenue apartment.  I was beginning to sound like a walking/talking food column when I would recap my nights in DC with friends and family.  This was the day Johnna Knows Good Food was born.
Five years have passed and it has been quite a journey.  A journey that I am so grateful that I decided to take on the whim thinking that the eight people I originally sent the link to the blog would be the only readers.  The journey began as a way to share my food stories with a few folks but gradually sprouted into  meeting the DC food blogger and journalist community, a live version of the blog, food events that not only mesmerize the palate but will stay with me forever and a host of "foodie" perks with a list too long to name.  Feeling enthused and grateful for the success of what started out as a pure hobby, I want to celebrate!
Today kicks off a week-long celebration of daily giveaways to some of my favorite restaurants in the area.  They have been on this journey with me and I can recollect when I visited each one for some research in one form or another.  What better way to kick things off then with some BBQ?!?  Hill Country Barbecue Market joined the DC restaurant scene on March 12, 2011 setting itself apart with Downtown DC's only custom meat smoking room.  The aroma of smoky wood chips can allure even the most avid anti-pork eater.  The food is good, inexpensive and the menu offers a broad selection outside of your basic ribs/mac n' cheese combo.  With the holiday season in full force, Hill Country is the place to be in between those cravings for Thanksgiving sides.
From the first time I visited Hill Country until now, I have always been a fan.  Perhaps it's the green bean casserole or maybe the Kreuz Market sausages that have kept me going back for more.  Whatever it is I am pleased to have the opportunity to share the experience with one of my lucky readers!  Comment below with your favorite Johnna Knows Good Food post and you are automatically entered to win todays drawing for a $50 Hill Country Barbecue Market gift card.  You have to be subscribed to the JKGF weekly newsletter to enter (I'll make this part easy for you, sign up here!).  Check out our recap of the restaurant here circa August 19, 2011.  Contest ends at midnight tonight.  Good luck and thank you to all the readers who have stuck by Johnna Knows Good Food through these five amazing years!
Category: Announcements, Food.Fun.Stuff., Washington D.C.
Johnna French is a Harlem NY native with deep roots in Panama, Washington, DC and North Carolina. All four places have heavily influenced her life and the foods she loves today. After graduating Howard University School of Law and beginning her life as a young professional in the city she was led to start Johnna Knows Good Food in November 2007 to keep family, friends and colleagues updated on where to go and what to eat while dining in the nation's capitol. French, who still practices law, leads a team of three writers to cover the ever expanding Washington, DC food scene. French has been featured in print and television, appearing in Washingtonian Magazine and is a regular contributor to various local TV affiliates including WUSA 9, FOX 5 DC and WJLA (ABC Affiliate) News Channel 8. During the 2016-2017 football season, Johnna aired on Comcast Sports Mid-Atlantic (CSN) show, Redskins Life, as the weekly tailgate host. Johnna is currently a regular contributor to the FOX Baltimore Weekend morning show.
---