UPDATED DECEMBER 17, 2012:  The winner of our GrubWithUs giveaway (below) is…drum roll, please…Nae!  Congratulations to Nae who will receive a $50 credit to try out GrubWithUs DC with the group of her choice via Johnna Knows Good Food.  Stay tuned for more giveaways in the New Year, Cheers!
Despite the many pics you see on Facebook, Twitter and Instagram, I have almost pulled my busy schedule to a halt.    I have not slowed down to 0 miles per hour but let's just say I'm down to about 50 miles per hour.  The slower speed has allowed me to take in some of the awesome new food trends making their way to DC as well as checking out a few places with major facelifts.  Here's a recap on my travels around town: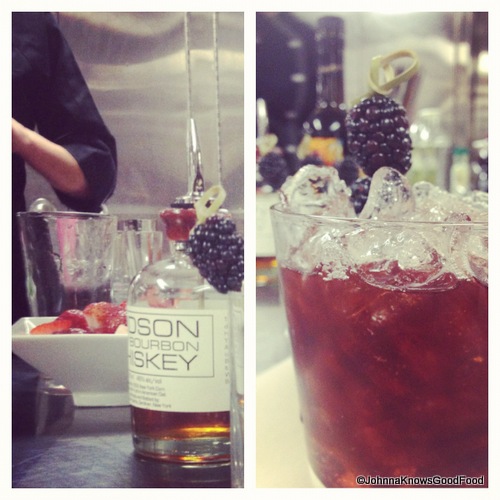 1. Edgar Bar & Kitchen is slated to open in the historic Mayflower Renaissance Hotel in mid-December.  I got a sneak peek into the space which will have a standing room only farm to table approach, plenty of dining space for everything from lunch biz meetings to group birthday celebrations and huge windows to make passerbyeers on Connecticut Avenue curious about all the diners inside.  Of course, I had to try the food.  The locally sourced (gigantic) shrimp and the Pom-Blackberry Balsamic Bourbon saturated with Hudson Bourbon will be winners during happy hour.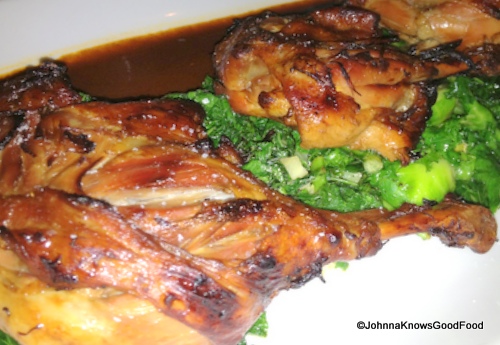 2.  Rosa Mexicano decided to jazz things up on their menu this Fall by adding ingredients such as lavender, pumpkin and lobster to the menu.  The Lavender, Black Pepper & Honey Marinated Duck is served two ways: Sliced Duck Breast paired with Apples, pears and duck mole and Braised Duck Legs paired with Wilted kale, brussels sprouts and serrano sage butter.  The latter stole my attention.  If you are looking for something sweet after taking in the restaurants famous guacamole (*made tableside), then the Pumpkin Cheesecake is a go paired with roasted apple ice cream.  For those looking to check out the new additions, I suggest visiting the newest location in Chevy Chase.  I am loving the contemporary decor and dim cozy lighting.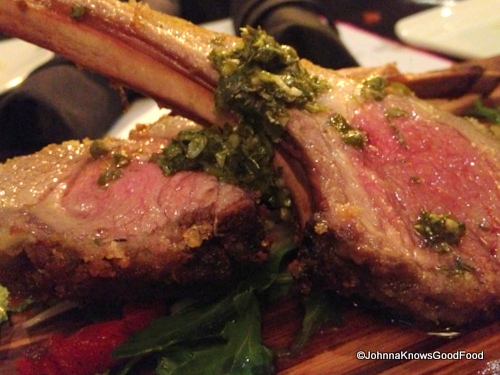 3. Tel'Veh Cafe & Wine Bar has revamped it's menu with the help of Dimosthenis "Dimo" Kolouas as the new executive chef and Alan Lamb as general manager/wine director.  Chef Kolouas, formerly of Kellari Taverna, brings his talents to the table with dishes such as grilled octopus paired with roasted peppers, capers & onion vinaigrette and herb crusted racks of lamb paired with arugula, roasted red peppers & shaved onion.  Wine director Alan Lamb does an excellent job of exercising his expertise in wine with the various ingredients used in Chef Kolouas dishes.  The Melon de Bourgogne alongside Tel'Veh's local oyster selection has me checking the clock for happy hour to get these two together again.  Tel'Veh is a 60-seat café and wine bar located at 401 Massachusetts Avenue, NW, 20001.
4. GrubWithUs moves to DC.  The concept is simple:  dine with people who have like interest.  Whether you already know the group or want to venture out to meet people with the same interest as yours, GrubWithUs is an excellent platform for group dinners.  GrubWithUs allows you to set up group dinners online or join a group dinner online with people you know or people you don't know but are interested in the same things i.e. food bloggers, Redskins fans.
Alongside GregsListDC, Go Gastronomy, Savory Simple and DesiGrub, among others, JKGF had an opportunity to test it out among people with a common interest: food blogging.  We took over one of the community tables at Founding Farmers and engaged in a couple of hours of good conversation and good food.  Not having to divy up the bill at the end made the meal even better.  Ever been out with a group of friends and everyone is scrabbling around trying to figure out who ordered what and what is owed, GrubWithUs eliminates that process because dinners booked through them are pre-paid.
As usual, I want to share the experience with you guys!  One lucky reader will receive a $50 credit for GrubWithUs to check out the experience with their group of friends or join a group that interest you.  Comment below with what group you would be interested in joining for dinner and you are automatically entered to win the $50 credit.  Winners will be selected by midnight tomorrow night (12/7).  Good luck!
Category: Announcements, Food.Fun.Stuff., Washington D.C.
Johnna French is a Harlem NY native with deep roots in Panama, Washington, DC and North Carolina. All four places have heavily influenced her life and the foods she loves today. After graduating Howard University School of Law and beginning her life as a young professional in the city she was led to start Johnna Knows Good Food in November 2007 to keep family, friends and colleagues updated on where to go and what to eat while dining in the nation's capitol. French, who still practices law, leads a team of three writers to cover the ever expanding Washington, DC food scene. French has been featured in print and television, appearing in Washingtonian Magazine and is a regular contributor to various local TV affiliates including WUSA 9, FOX 5 DC and WJLA (ABC Affiliate) News Channel 8. During the 2016-2017 football season, Johnna aired on Comcast Sports Mid-Atlantic (CSN) show, Redskins Life, as the weekly tailgate host. Johnna is currently a regular contributor to the FOX Baltimore Weekend morning show.
---