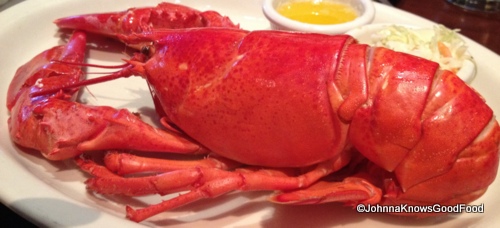 Lobster is my favorite food.  Hands down.  Anyone who knows me, knows this about me.  I could eat it morning, noon and night, that's how much I love it.  Luckily I live in a city that feeds my obsession with a plethora of lobster options.  As we continue to celebrate five years of Johnna Knows Good Food, I want to celebrate the food I love the most: lobster.  What better way to celebrate lobster and five years of good food than with a veteran in this restaurant and lobster game, Legal Sea Foods.
Legal Sea Foods opened its doors in 1995 in Chinatown DC and is one of my faves in the area because it has managed to stay consistent while constantly evolving its menu to the changing times.  Before I met Hamburger Helper (*my first cooking experience, which triggered me to live in the kitchen), Legal Sea Foods was one of my fave places to venture off campus to with my college buds when our parents sent us a little cash, we did not believe in saving.  Now that I am a full blown adult and know how much things really cost, I realize how affordable and reasonable Legal Sea Foods is in fulfilling my lobster cravings.  Another thing I have grown into is the Legal Sea Foods Happy Hour, which features Six For Six (*1/2 dozen oysters for $6), Clams Casino ($4.95) and Buffalo Shrimp ($4.95).
Today I am giving one lucky reader an opportunity to indulge in my favorite food.  Comment below with your favorite food, the food that you could eat morning, noon and night, and you are automatically entered to win today's drawing.  You have to be subscribed to the JKGF weekly newsletter to enter (I'll make this part easy for you, sign up here!).  The winner will receive a gift certificate for a lobster dinner at Legal Sea Foods, which includes a 1-1.25 lb. steamed lobster with a choice of two sides (*valid from January 2, 2013-March 31, 2013).  The winner will be selected at midnight tonight.  Good luck and let the celebration continue!
Category: Announcements, Food.Fun.Stuff., seafood
Johnna French is a Harlem NY native with deep roots in Panama, Washington, DC and North Carolina. All four places have heavily influenced her life and the foods she loves today. After graduating Howard University School of Law and beginning her life as a young professional in the city she was led to start Johnna Knows Good Food in November 2007 to keep family, friends and colleagues updated on where to go and what to eat while dining in the nation's capitol. French, who still practices law, leads a team of three writers to cover the ever expanding Washington, DC food scene. French has been featured in print and television, appearing in Washingtonian Magazine and is a regular contributor to various local TV affiliates including WUSA 9, FOX 5 DC and WJLA (ABC Affiliate) News Channel 8. During the 2016-2017 football season, Johnna aired on Comcast Sports Mid-Atlantic (CSN) show, Redskins Life, as the weekly tailgate host. Johnna is currently a regular contributor to the FOX Baltimore Weekend morning show.
---