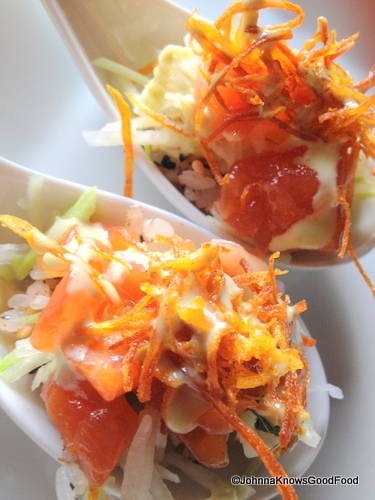 The question I often get is how I started in the food business and how I became so passionate about cooking.  Unlike many others in this industry, I was not cooking in the kitchen with my elders as a young child.  I actually despised being in the kitchen until my sophmore year of college when I lived with one of my fave college friends who was a true Southern belle with kitchen skills.  I was intrigued by her motivation to actually prepare her own food instead of simply making a trip to HoChi (*Howard China,which should be famous for their mambo sauce) like the rest of us.  I decided it was time to see what was the allure to this cooking thing and took to the grocery store for supplies.  Hamburger Helper would be my first attempt.  I had a friend in high school who was cooking her family dinners by the time we were 16 and she would often make Hamburger Helper.  I thought this would be a safe start.  Safe start it was and it turned me into an obsessive cook from that point on!  Once I saw that something I placed in a pan could turn into something edible, I was hooked.  So Hamburger Helper started it all folks and some odd years later I am headed to food competitions with some of the top cooks in the area.  Who would have thought it?
Today, we celebrate Day Four of Johnna Knows Good Food Five Year Anniversary with fine beginnings.  Masa 14 is the first Richard Sandoval restaurant that I fell in love with and now dine regularly.  You would not believe how many times the restaurant rolls off my tongue when people ask for dining suggestions.  Perhaps its the undeniably creative cocktails or the everchanging menu or the sexy rooftop space that keeps my attention.  Whatever it is, it is undoubtedly one of my favorites of Chef Richard Sandoval's empire.  Today, I want to share my experience with one of my readers.  Comment below with the first restaurant you fell in love with in DC and you are automatically entered to win a $50 gift card to Masa 14.  The winner will be selected at midnight tonight.  Good luck!
Category: Announcements, Food.Fun.Stuff., Washington D.C.
Johnna French is a Harlem NY native with deep roots in Panama, Washington, DC and North Carolina. All four places have heavily influenced her life and the foods she loves today. After graduating Howard University School of Law and beginning her life as a young professional in the city she was led to start Johnna Knows Good Food in November 2007 to keep family, friends and colleagues updated on where to go and what to eat while dining in the nation's capitol. French, who still practices law, leads a team of three writers to cover the ever expanding Washington, DC food scene. French has been featured in print and television, appearing in Washingtonian Magazine and is a regular contributor to various local TV affiliates including WUSA 9, FOX 5 DC and WJLA (ABC Affiliate) News Channel 8. During the 2016-2017 football season, Johnna aired on Comcast Sports Mid-Atlantic (CSN) show, Redskins Life, as the weekly tailgate host. Johnna is currently a regular contributor to the FOX Baltimore Weekend morning show.
---