This week has been a blast celebrating five years of good food. You have heard the story of how I got started, why I began cooking in the first place and now I close out this Friday giveaway with where I plan to take things. Thinking about another five years seems like an eternity away but in actuality it really is right around the corner. These five years passed like a breeze and it feels like only yesterday that I attended my first food event. Going forward, my major plan is to keep providing up to date food news, keep readers abreast of the ever-changing DC food scene and I want to get back in the kitchen with a vengeance.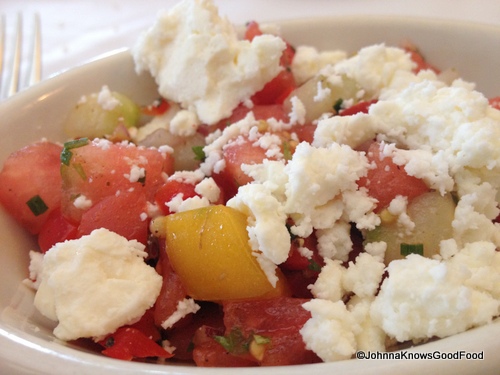 Another goal for the next five years is to travel MORE for further food discoveries, which is probably why I adore Agora in Dupont. Agora is one of those cozy, discreet places in the District that is brimming with dishes full of personality. The Mediterranean restaurant has been able to hold me over until I can book a trip to Greece or Turkey, which stand at the top of my to-do list. Besides having a captive menu for those looking for Mediterranean flavor, the restaurants weekend brunch is one of the areas best bets. For $29.95, guests can enjoy a plethora of Greek and Turkish classics alongside unlimited cocktails. Yet another reason I have probably delayed my travels…I'm getting the flavors of the Mediterranean right in my neighborhood for under $30.
For today's giveaway, tell us where you want to travel for food? Domestic or International, share your dream food destination and you are automatically entered to win a $50 gift certificate to enjoy the flavors of Agora. You have to be subscribed to the JKGF weekly newsletter to enter (I'll make this part easy for you, sign up here!).  The winners will be chosen at midnight tonight (*All winners of this week's giveaway will be announced upon the closing of the celebration giveaway week). Good luck and it has been a pleasure to share my food stories with you…soo looking forward to another five years!
Category: Announcements, Food.Fun.Stuff.
Johnna French is a Harlem NY native with deep roots in Panama, Washington, DC and North Carolina. All four places have heavily influenced her life and the foods she loves today. After graduating Howard University School of Law and beginning her life as a young professional in the city she was led to start Johnna Knows Good Food in November 2007 to keep family, friends and colleagues updated on where to go and what to eat while dining in the nation's capitol. French, who still practices law, leads a team of three writers to cover the ever expanding Washington, DC food scene. French has been featured in print and television, appearing in Washingtonian Magazine and is a regular contributor to various local TV affiliates including WUSA 9, FOX 5 DC and WJLA (ABC Affiliate) News Channel 8. During the 2016-2017 football season, Johnna aired on Comcast Sports Mid-Atlantic (CSN) show, Redskins Life, as the weekly tailgate host. Johnna is currently a regular contributor to the FOX Baltimore Weekend morning show.
---