Experimenting with lamb has been a hobby of mines for quite some time so when the opportunity was presented to have some good old fashioned competition (*courtesy Border Springs Farm lamb) in seasoning it up and cooking it, I jumped on it. The problem with jumping head first into a commitment is ensuring you have all of the proper tools to complete the task. Here's a little secret about my life: I have lived without an oven for the past 2 ½ years and I sold my convection oven immediately preceding my Cyber hand shake to participate in the D.C. American Lamb Pro-Am.  The chosen cut of meat was a boneless leg of lamb and I needed to figure out a way to get the 6+ lb. piece of meat cooked and ready serve on meager accommodations.
Stumped for ideas after having to give up the idea of simply seasoning and roasting or baking the juicy piece of meat, I turned to my beloved Slow Cooker. Between the Slow Cooker and my two stove-top burners (*yes, two.), I figured I could at least create something edible with a permeating flavor for the boneless leg of lamb. I was right. What came out some day and a half later could feed a family of 5, has the aroma of your favorite Cuban restaurant in Miami and has the juiciness of that Thanksgiving turkey that clearly had a couple of apples stuffed in it. One of my best pieces if I do say so myself especially when served alongside my homemade black beans and rice. If you're in doubt, check out the recipe below and try your hand at it. I promise you will thank me later.
1 (6 lb. to 7 lb.) boneless leg of lamb (*Suggested: Border Springs Farm Lamb)
2 red bell peppers (*diced)
7 whole garlic cloves
3 large onions (*sliced)
4 dry Bay Leaves
1 tsp. vinegar
8 Bacon Strips
1 (10 oz.) bottle of orange juice (*Remember No Pulp)
1 ¾ cup dry red wine
2 ½ cups Chicken Broth
Olive Oil
1 (14.5 oz.) can of diced tomatoes
2 cups fresh parsley (*for garnish)
Salt (*to taste)
Pepper (*to taste)
So I decided to marinate the lamb overnight. This could honestly be done in a few hours but I wanted the citrus flavor to really work its chemistry alongside the wine inside the boneless leg of lamb.
For the Marinade: In a large bowl, combine the peppers, onions, garlic, bay leaves, orange juice, 1 cup of wine and vinegar. Place the lamb in the bowl and cover with the marinade or use a separate aluminum (*disposable) baking pan (*like I did) and pour the marinade over the lamb. Cover and refrigerate overnight (*or 2-4 hours if you are limited on time) making sure to turn the lamb at least once to make sure the flavors cover the entire lamb.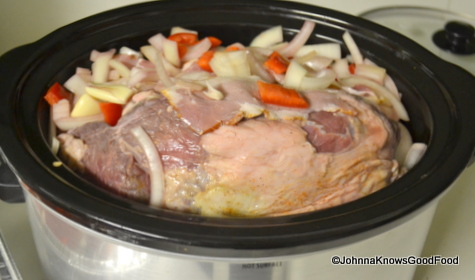 Slow Cooker: After refrigerating overnight, remove the lamb from the marinade, layer the bottom of the Slow Cooker with 4 strips of bacon and add the lamb to the Slow Cooker which should be set on HIGH. Top with about half of the marinade and 1 cup of the Chicken Broth. Layer 4 more strips of bacon on top, cover and allow to slow cook for 4-6 hours.
Stock Pot: Remove lamb from Slow Cooker and season lamb with salt and pepper. In a pan over Medium-High heat sear the lamb in olive oil (*2 tbsp.) for 1-2 minutes, turning over on each side.
Add the lamb to a large stock pot along with the peppers, onions, garlic, bay leaves and bacon from the Slow Cooker (*spoon out with a slotted spoon).  Add in ¾ cups of the red wine, diced tomatoes, 1 cup of the Chicken Broth and bring to a simmer. Cover and lower to Low-Medium heat and cook for 2-3 hours.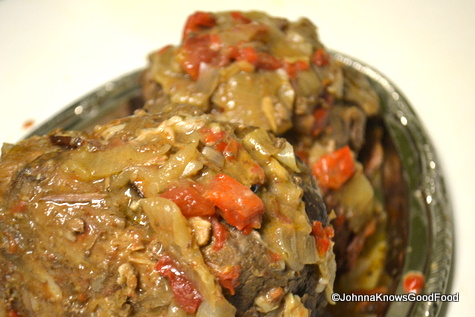 Finale: Remove the lamb from the pot. Allow the lamb to rest for about 10 minutes and then cut into portions. Serve on top of rice, black beans and topped with the sauce from the pot with a sprig of parsley.
Enjoy!
*Now what I need you all to do:  Head over to Fans of Lamb and vote for my recipe/post, "Slow Cooked Leg of Lamb", because…well, because…it's kinda awesome. *smiles* Thanks!! 
Category: Announcements, Crock Pot, Food.Fun.Stuff., main dish, Various Cooking Styles, Washington D.C.
Johnna French is a Harlem NY native with deep roots in Panama, Washington, DC and North Carolina. All four places have heavily influenced her life and the foods she loves today. After graduating Howard University School of Law and beginning her life as a young professional in the city she was led to start Johnna Knows Good Food in November 2007 to keep family, friends and colleagues updated on where to go and what to eat while dining in the nation's capitol. French, who still practices law, leads a team of three writers to cover the ever expanding Washington, DC food scene. French has been featured in print and television, appearing in Washingtonian Magazine and is a regular contributor to various local TV affiliates including WUSA 9, FOX 5 DC and WJLA (ABC Affiliate) News Channel 8. During the 2016-2017 football season, Johnna aired on Comcast Sports Mid-Atlantic (CSN) show, Redskins Life, as the weekly tailgate host. Johnna is currently a regular contributor to the FOX Baltimore Weekend morning show.
---