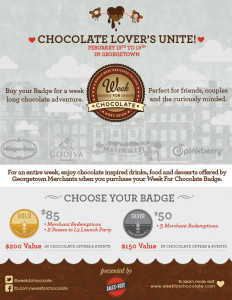 1. Beginning this Monday, those who purchase a Week for Chocolate badge can enter participating businesses with the badge in hand and enjoy a special chocolate treat designed for two at no additional cost. Chocolate-inspired drinks, food and desserts from Georgetown hot spots such as Serendipity 3, Godiva, Pinkberry, Sprinkles and Starbucks, among others, will be provided when a Week For Chocolate $50 Silver Badge is purchased from SalesVote.com or WeekForChocolate.com. Purchase a $70 to also have access to the Launch Party tomorrow in Georgetown.  Proceeds from the badge purchases will go to support Greater Leadership Washington, Volunteers of America and Georgetown Ministry Center.
Because this is the month of love and I absolutely LOVE my readers, I want to invite three lucky readers to L2 Lounge with me tomorrow night.  The first three readers to comment below with their favorite chocolate treat will join me for a night of pure-tee fun.  Shoot!
2. J&G Steakhouse is hosting a "Happy I'm Single" Hour on Monday, Feb. 13 & Tuesday, Feb. 14, 5:00 – 7:30pm. I LOVE this.  For those who have come out of a relationship that made you want to say "Good Riddance" at the end instead of shedding a couple tears, this is the happy hour for you.  Drink specials include featured beverages for $5 at 5:00pm, $6 at 6:00pm, and $7 from 7:00 – 7:30pm. (Anti-) Valentine's Day cocktails includes a Lychee Raspberry Bellini (pureed lychee and raspberry with sparkling wine) and a Fraise Sauvage (gin with strawberry vanilla puree, simple syrup, lemon juice and sparking wine).
3. Nando's Peri Peri has the deal of the day.  For $39.99 you get a meal for two that includes: 1 whole Nando's chicken, 2 large sides, a bottle of Cara Viva Wine and a chocolate spoon cake.  Budgeting?  Just started dating (*like this week)?  This could be the move for a casual, yet upgrade in the typical carry-out fare to show that special someone you think their kinda cute.
4. Want to show your kitchen affection?  After you try your hand at my Lamb Carne Asada, whip up a quick dessert.  Whole Foods posted this Banana Nice Cream, which literally takes 5 seconds to whip together. 
5. Last minute shopper?  PAUL's Bakery has a couple of treats to give your sweetheart with chocolate attached.  The Fraisier (*Strawberry) and Framboisier (*Raspberry) cakes are a combo of fruit, sweet cream custard and chocolate.
Category: Announcements, Food.Fun.Stuff., Washington D.C.
Johnna French is a Harlem NY native with deep roots in Panama, Washington, DC and North Carolina. All four places have heavily influenced her life and the foods she loves today. After graduating Howard University School of Law and beginning her life as a young professional in the city she was led to start Johnna Knows Good Food in November 2007 to keep family, friends and colleagues updated on where to go and what to eat while dining in the nation's capitol. French, who still practices law, leads a team of three writers to cover the ever expanding Washington, DC food scene. French has been featured in print and television, appearing in Washingtonian Magazine and is a regular contributor to various local TV affiliates including WUSA 9, FOX 5 DC and WJLA (ABC Affiliate) News Channel 8. During the 2016-2017 football season, Johnna aired on Comcast Sports Mid-Atlantic (CSN) show, Redskins Life, as the weekly tailgate host. Johnna is currently a regular contributor to the FOX Baltimore Weekend morning show.
---