There were many reasons I had not eaten at Buddha Bar until about two weeks ago: Never really over in that part of the neighborhood, the menu was a tad pricey for a casual night out and it was truly a mystery on how the food actually tasted. Now with the opportunity to try the new menu and with one of my fave food bloggers, French Twist D.C., I made a trip to Buddha Bar. Mysterious by day and night with the dimly lit interior, the place is seduction to the eyes upon entering the doors. Victorian patterns cover the lounge furniture and a huge Buddha is placed in the center of the dining room.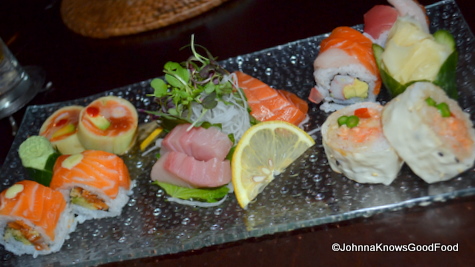 Foregoing the typical executive chef model, the restaurant has installed Chef's Michael Doss and Sandra Celestine into the positions of Co-Sous Chefs. Alongside Executive Sushi Chef Nakata, the Co-Sous chef team has revamped the menu to include drunken noodles, a hot pot and sushi that leaves out the seaweed.
The hot pot has to be my favorite especially during this time of the year. Though not served in the abundance of what you will get in China, the pot is a miniature version which does not skimp on that true vegetable broth flavor.
The new menu plays with ideas that are not commonly found on restaurant menus in D.C. Chef Doss's use of monkfish, for example, paired with scallion pancakes is the type of forward thinking that the D.C. restaurant scene thrives on.
The Korean BBQ ribs unfortunately brought back memories of my time at Honey Pig when my full attention should have been on Buddha Bar. After tasting it on that bed of kimchi, I wanted to head to Honey Pig after dinner. No bueno.
Refocusing my attention on what stood before me, we wrapped things up with the mango soup. BLISS. That is the best way to describe this dessert where they paired it with Chambord (*!!!) and took the care not to overload it with sugars and sweeteners that simply ruin potentially good desserts.
I learned from French Twist D.C. that Buddha Bar began its trek in Paris some odd years ago and has now made its way across the ocean with one location in the U.S. in Washington, D.C. Lucky us? After hearing about French Twists many fun experiences at the Paris location, sucking down my fair share of The Majestic cocktails and almost slurping down the remaining contents of the hot pot, I see why Buddha Bar has managed its longevity. My only hope is that it can do the same in D.C., after all we have first dibs at it in the U.S.
Category: Announcements, Food.Fun.Stuff., restaurant reviews, Washington D.C.
Johnna French is a Harlem NY native with deep roots in Panama, Washington, DC and North Carolina. All four places have heavily influenced her life and the foods she loves today. After graduating Howard University School of Law and beginning her life as a young professional in the city she was led to start Johnna Knows Good Food in November 2007 to keep family, friends and colleagues updated on where to go and what to eat while dining in the nation's capitol. French, who still practices law, leads a team of three writers to cover the ever expanding Washington, DC food scene. French has been featured in print and television, appearing in Washingtonian Magazine and is a regular contributor to various local TV affiliates including WUSA 9, FOX 5 DC and WJLA (ABC Affiliate) News Channel 8. During the 2016-2017 football season, Johnna aired on Comcast Sports Mid-Atlantic (CSN) show, Redskins Life, as the weekly tailgate host. Johnna is currently a regular contributor to the FOX Baltimore Weekend morning show.
---