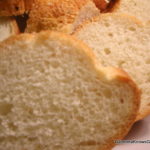 TODAY
Mardi Gras season is upon us: Louisiana Seafood Promotion & Marketing Board and Cajunator are teaming up to celebrate Mardi Gras in Washington, D.C. with a free oyster po-boy giveaway.  All patrons purchasing gumbo or red beans and rice receive a free ½ oyster po-boy and Mardi Gras beads.  Today from 11am – 1pm @ the Navy Yard Metro stop on "M" Street.
Last week was packed with tons of BBQ, this week is for the vegan in you.  DC Meat-Free Week is going on right now with Food Truck Day taking over this Wednesday afternoon.  Get complete listings here of the remainder of the events.
WORTH A SECOND LOOK
Bourbon Steak's $7 Smoke n' Stout deal: a Red Apron half-smoke and a stout, served in the bar and lounge only Sundays through Thursdays for $7.  The "Smoke n' Stout" will be available through Wednesday, February 29th.
You Are What You Eat at the Strathmore features nine artists whose work comments on perception of body image and the cultural significance of food, with a bent toward American idolization of consumption. The exhibition includes painting, sculpture, photography and multi-media works by Danny Rozin, Peter Anton, Matthew Lawrence, Pamela Michelle Johnson, Davette Leonard, Rhonda Harris Banes, Matt Freedman, Joey Manlapaz and Donna McCullough on view through March 17, 2012 in the Mansion. Pieces in the exhibition can be purchased. For more information, call (301) 581-5100 or visit www.strathmore.org.  A free opening reception for the public will be held on Sunday, February 12, 2012 from 2-4 p.m. in the Mansion.
NEWS
Spring is upon us: Park Hyatt Washington will host Park Hyatt Masters of Food & Wine, a seasonal culinary experience on Saturday, March 24, saluting the ingredients, flavors, and talents of local chefs, regional artisans and producers, and master tea makers.  Get the full schedule here.
Walmart unveiled the "Great for You" icon in D.C. yesterday.  The icon, part of the company's healthier food initiative, is an effort to implement a transparent, summary icon for its private label brand products backed by nutrition criteria. "Great For You" will initially appear on select Walmart Great Value and Marketside items, as well as on fresh and packaged fruits and vegetables at Walmart U.S. stores nationwide this spring.  By extending "Great For You" to fruits and vegetables and nutritious food options the company will make it easier for its customers to identify the healthy food selections in the store.
OUT AND ABOUT
Melody Tavern celebrated its Grand Opening last week with yours truly and many of the areas notable public figures. Kudos to Northern VA for bringing this cool jazz bar/restaurant to their Potomac Yards neighborhood.
On Monday, I picked up the largest piece of lamb to begin my journey toward becoming one of the four DC food bloggers to take the title in the D.C. American Lamb Pro-Am competition.  Because they did not cut me any slack on the competition, I have been working diligently to at least get myself in the running.  I will need your votes next week so I can bring one home for the team…emails/blog posts/Facebook messages/telegrams/etc. to follow!
Category: Announcements, Food.Fun.Stuff., Washington D.C.
Johnna French is a Harlem NY native with deep roots in Panama, Washington, DC and North Carolina. All four places have heavily influenced her life and the foods she loves today. After graduating Howard University School of Law and beginning her life as a young professional in the city she was led to start Johnna Knows Good Food in November 2007 to keep family, friends and colleagues updated on where to go and what to eat while dining in the nation's capitol. French, who still practices law, leads a team of three writers to cover the ever expanding Washington, DC food scene. French has been featured in print and television, appearing in Washingtonian Magazine and is a regular contributor to various local TV affiliates including WUSA 9, FOX 5 DC and WJLA (ABC Affiliate) News Channel 8. During the 2016-2017 football season, Johnna aired on Comcast Sports Mid-Atlantic (CSN) show, Redskins Life, as the weekly tailgate host. Johnna is currently a regular contributor to the FOX Baltimore Weekend morning show.
---