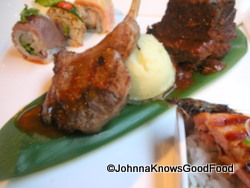 Asia Nine has added a twist to its Asian Fusion cuisine:  Italian.  In celebration of La Dolce DC, the Penn Quarter restaurant has put a spin on Italian classics, Bolognese and Tiramisu, among other Italian favorites.  I had the opt to try the Braised Short Ribs with Thai Kaffir Curried Bolognese and the Thai Tiramisu a la Mode.  I think I'm liking this new fusion of the two cuisines…
Smoothies, cold soup-drinks and cold savory smoothies for 20% off:  Litestars, of Foggy Bottom, is offering 20% off their smoothies, cold soup-drinks and cold savory smoothies.  With smoothies and soup-drinks under 300 calories, the bistro is hoping to not only help you save calories but on your spending this summer.
Taberna del Alabardero will host its Paella Festival on beginning Monday, July 18, 2011-Saturday, July 23, 2011.  Throughout the week, the restaurant will feature cooking demos of 2-3 different Paellas, 10 different Paellas on the menu and hold a cooking class with various Paellas.  The cooking class is July 23, 10:30 am-1:30 pm for $100 per person. Ole!
Did you enjoy the DC State Fair last year?? If so and you enjoyed, then you will want to visit the bake sale fundraiser @ Zorba's Café on July 17, 2011 (8:30 am -11 am).  Keep the festivities going, having a State Fair is a huge step in the right direction.
Category: Announcements, Food.Fun.Stuff., Washington D.C.
Johnna French is a Harlem NY native with deep roots in Panama, Washington, DC and North Carolina. All four places have heavily influenced her life and the foods she loves today. After graduating Howard University School of Law and beginning her life as a young professional in the city she was led to start Johnna Knows Good Food in November 2007 to keep family, friends and colleagues updated on where to go and what to eat while dining in the nation's capitol. French, who still practices law, leads a team of three writers to cover the ever expanding Washington, DC food scene. French has been featured in print and television, appearing in Washingtonian Magazine and is a regular contributor to various local TV affiliates including WUSA 9, FOX 5 DC and WJLA (ABC Affiliate) News Channel 8. During the 2016-2017 football season, Johnna aired on Comcast Sports Mid-Atlantic (CSN) show, Redskins Life, as the weekly tailgate host. Johnna is currently a regular contributor to the FOX Baltimore Weekend morning show.
---