A few years ago I visited China and quickly realized there is a distinct difference between authentic Chinese food and American Chinese food.  It took the full length of my trip (2 weeks) for my body and mind to wrap around some of the foods I had digested.  As much as I love to try new things by the time I reached the point of having duck blood as a late night snack after bar hopping, I realized I needed something a little closer to home, which is how I stumbled on the hot pot.  The friend that I was visiting suggested a spot she simply referred to as the "Hot Pot" in Beijing.  After visiting once, I made this apart of my daily routine during the remainder of my stay in Beijing.
A hot pot is essentially large tin bowls filled with a chicken broth as the base and you choose your veggies, meat and noodles to add to the broth.  This is exactly what I found when I had the opportunity to visit Mala Tang in Arlington, VA.  The "Hot Pot" was the one restaurant I truly missed upon my return to the U.S. and I was convinced I would not find this dining experience especially in the District area.  Lucky for me, I was mistaken.  Mala Tang carries the same concept that I found in Beijing:  order the broth you want (veggie or chicken), the meat of your choice, choose a noodle and round it out with a plethora of veggies.  The hot pots at Mala Tang are miniature versions of the ones that were in Beijing but they do the same job.  The hot pot concept is similar to the fondue concept: you have a bowl of broth, add your selections to the broth, cook for 2-4 minutes, remove and eat.  Simple enough?
Besides some of the most flavorful chicken broth I have tasted, Mala Tang provides house-made dipping sauces alongside the hot pot meal.  The house-made soy sauce leaves out the typical inundated salty flavor typically found in store brought soy sauce and replaces that with a light oil base seasoned with natural flavorful ingredients.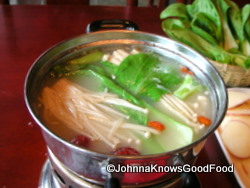 I chose the chicken broth, shrimp, enoki mushrooms, potatoes and bok choy for my ingredients.  Stuffed is an understatement on the way I felt leaving the restaurant.  My meal was really meant for two people and I tried to eat for both in my single meal.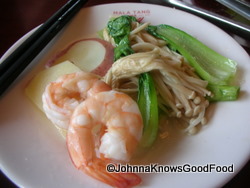 If a trip to China is not on your agenda soon, then I suggest you take a quick trip to Mala Tang to get a taste of what I would say was my best hot pot dining experience since my trip to Beijing.
Category: restaurant reviews, Washington D.C.
Johnna French is a Harlem NY native with deep roots in Panama, Washington, DC and North Carolina. All four places have heavily influenced her life and the foods she loves today. After graduating Howard University School of Law and beginning her life as a young professional in the city she was led to start Johnna Knows Good Food in November 2007 to keep family, friends and colleagues updated on where to go and what to eat while dining in the nation's capitol. French, who still practices law, leads a team of three writers to cover the ever expanding Washington, DC food scene. French has been featured in print and television, appearing in Washingtonian Magazine and is a regular contributor to various local TV affiliates including WUSA 9, FOX 5 DC and WJLA (ABC Affiliate) News Channel 8. During the 2016-2017 football season, Johnna aired on Comcast Sports Mid-Atlantic (CSN) show, Redskins Life, as the weekly tailgate host. Johnna is currently a regular contributor to the FOX Baltimore Weekend morning show.
---