Basketball season is here and I could not be happier. Besides being one of my favorite sports to spectate, this time of year always ushers in new and warmer weather. As the winter chill begins to break, I start to think of ways to stay out of the kitchen and get outside. With the games airing on television, however, indoors is where I typically end up during this time of year. Though I am spending the time indoors, I am not spending it steaming in the kitchen. I have so many short cuts to good food in minutes and entertaining without a lot of hassle. The recipe below is exactly how I like to take the easy way out while making sure there is good food on the table.
Using Curly's Pulled Pork (*found in the refrigerated meat case at your local grocery store), I created what I like to call Shredded Pork in a Blanket. The shredded pork cuts down my cook time by a whole day! If I had to brine, slow cook, blah, blah, blah, the pork overnight, this would be less than ideal for someone who loves to not cook during this time of the year but still entertain (*and have a 5 ½ month old in tow…). The other short cut I use is picking up some simple crescent rolls at the grocery store. The slaw is the only work and that depends on how you like your slaw. The less complex, the better for me. Check out the recipe below and let's all get a break this spring!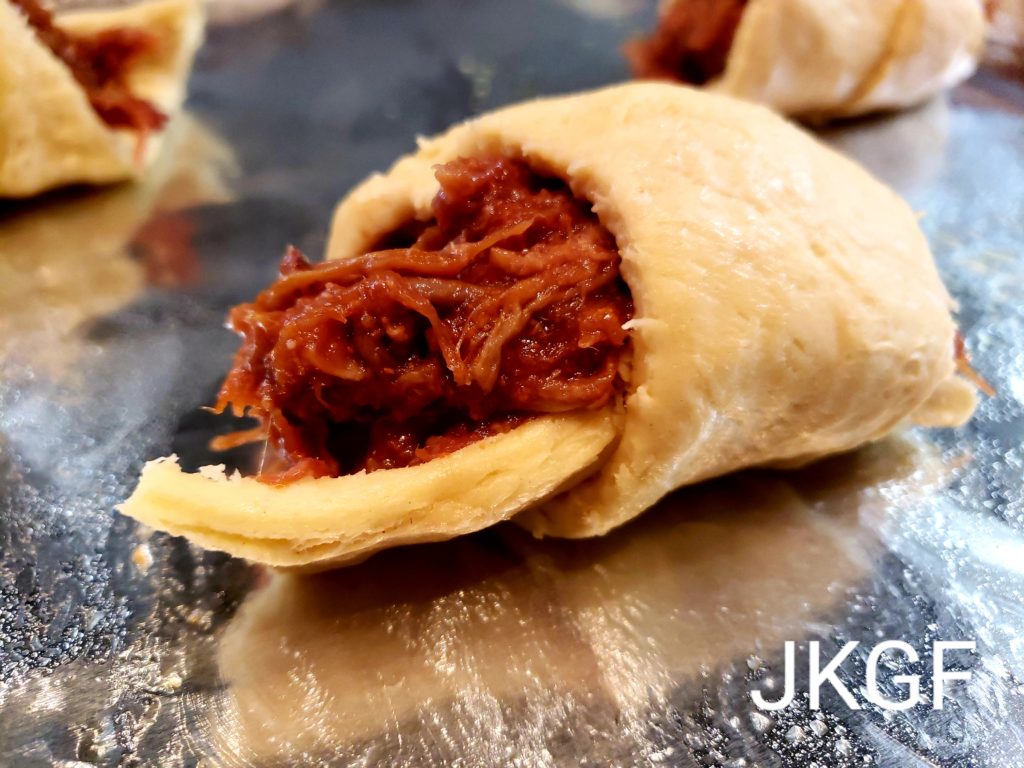 Shredded Pork in a Blanket:
16 oz. container of Curly's Pulled Pork (*Also, for a limited time, $1 OFF coupons are available on Curly's packages in-store.)
8 oz. container of Crescent Rolls (*any brand)
2 tbsp. melted butter
For the coleslaw:
14 oz. bag of coleslaw mix
¾ cup mayo
2 ½ tbsp. white sugar (or honey)
1 tbsp. fresh lemon juice
1 ½ tbsp. apple cider vinegar
Dash of cumin
Dash of garlic powder
Salt and pepper (to taste)
For the Shredded Pork in a Blanket: Preheat oven according to crescent roll instructions. On a baking sheet, add a crescent roll fully unrolled and spoon in two (2) to three (3) tbsp. of Curly's Shredded Pork into the crescent roll center. Roll the crescent roll up and repeat steps above until all rolls have been filled. Bake according to crescent roll instructions and remove from oven. Brush tops with melted butter and serve alongside coleslaw.
For the Coleslaw: In a bowl mix together, the mayo, sugar, lemon juice, vinegar, cumin and garlic powder. Add the 14 oz. coleslaw mix and toss together. Season with salt and pepper. Serve chilled.
*Johnna's Tip: Want to skip the coleslaw? Have at it! The slaw is not a necessary element. Serve alongside pickles, chips or whatever other sides you enjoy on game day.
*Johnna's Tip, Tip: Want the coleslaw but don't want to make it?? Get your slaw at your local grocery store or farmer's market premade. Remember, the key here is shortcuts that do not sacrifice the flavor so try to find something you can sample or have had in the past. Cheers and may the best team win!!
Category: appetizers, finger-foods, Product Review, Recipes, Reviews, side dish
Johnna French is a Harlem NY native with deep roots in Panama, Washington, DC and North Carolina. All four places have heavily influenced her life and the foods she loves today. After graduating Howard University School of Law and beginning her life as a young professional in the city she was led to start Johnna Knows Good Food in November 2007 to keep family, friends and colleagues updated on where to go and what to eat while dining in the nation's capitol. French, who still practices law, leads a team of three writers to cover the ever expanding Washington, DC food scene. French has been featured in print and television, appearing in Washingtonian Magazine and is a regular contributor to various local TV affiliates including WUSA 9, FOX 5 DC and WJLA (ABC Affiliate) News Channel 8. During the 2016-2017 football season, Johnna aired on Comcast Sports Mid-Atlantic (CSN) show, Redskins Life, as the weekly tailgate host. Johnna is currently a regular contributor to the FOX Baltimore Weekend morning show.
---