New Year, new frame of mind, new clothes. These were the thoughts bustling through my head when I decided to venture to my old shopping stomping grounds in Potomac Mills (I used to live for days spent combing through Gap discount racks…). On this particular day, I was on a mission for what new things the mall had to offer but my appetite preceded me. How was I going to keep my new "snatched waistline" resolution without passing out from starvation or giving into my unhealthy mall food court cravings?! I decided to stay strong, stick to my resolution and give the mall food court the benefit of the doubt that healthy was an option.
Glad I gave it a chance. After perusing the main food court options, I settled on trying a variety of things to satisfy my appetite. I. Had. Healthy. Options. In. a. Mall. Food. Court. Who knew?! Starting with Petra Grill Mediterranean & Kebab, I had the Chicken Kabob Greek Salad. Not your average Greek Salad with the typical boring vinaigrette, this one is a feta vinaigrette dressing. This might be worth the trip alone to the mall where the meats are grilled to order and the prickly vinaigrette makes you forget you just ordered this over a takeout counter.
Having just returned from a fantabulous Mexico City vacation, I am still having taco withdrawal so Moe's Southwest Grill caught my eye. Still trying to keep it fast and casual without jeopardizing my get fit efforts, I surfed the menu for something to fulfill both ends of my cravings. Who knew?! There are veggie tacos at Moe's Southwest Grill?? I had never seen them because I typically stick closer to the super-size me side of the menu with tons of cheese on top. I love how Moe's Southwest Grill has all these veggie options to choose from where my taco had a small mountain growing once I finished running down the line with the server. I paired with a side of guac (only 55 calories!).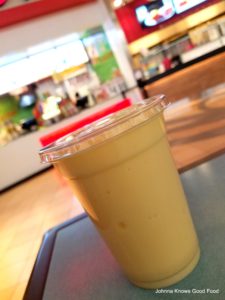 Feeling stuffed but thirst quenched, I made one last stop at Great Wraps. After fighting off the desire to order a wrap for the road, I settled on the Pina Colada smoothie. Now many of you know, I am not a Smoothie girl but if it is done right, I can be down for the cause. This one was done right with a combo of pineapple, coconut and apple juice.
With my hangry state over, I could now focus on the shopping and actually fitting into all of the clothes without the bloated feelings I typically have after visiting a food court. Good job Potomac Mills. You get a pat on the back for helping me keep these New Year's resolutions. 2018, are you ready?!
Category: Food.Fun.Stuff., health concious, restaurant reviews, Reviews, VA
Johnna French is a Harlem NY native with deep roots in Panama, Washington, DC and North Carolina. All four places have heavily influenced her life and the foods she loves today. After graduating Howard University School of Law and beginning her life as a young professional in the city she was led to start Johnna Knows Good Food in November 2007 to keep family, friends and colleagues updated on where to go and what to eat while dining in the nation's capitol. French, who still practices law, leads a team of three writers to cover the ever expanding Washington, DC food scene. French has been featured in print and television, appearing in Washingtonian Magazine and is a regular contributor to various local TV affiliates including WUSA 9, FOX 5 DC and WJLA (ABC Affiliate) News Channel 8. During the 2016-2017 football season, Johnna aired on Comcast Sports Mid-Atlantic (CSN) show, Redskins Life, as the weekly tailgate host. Johnna is currently a regular contributor to the FOX Baltimore Weekend morning show.
---