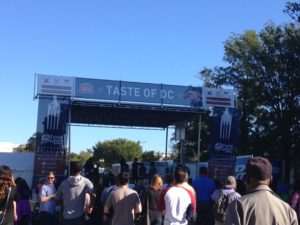 JKGF visited the Taste of DC and was able to sample fares from many of the areas top restaurants. The hardest part of the entire day was deciding which small bites to taste. The festival spread over four DC blocks and offered over eighty choices of all different kinds of cuisines. This did not even include the different varieties of beer and wine.  Faves of the day came from local restaurants BGR, Crave and La Tasca.  Along with the bites being offered, various vendors were on site with entertainment and interactive games.  Verizon even provided live streaming of the Redskins football game, which of course, was a huge hit for the local crowd. Festival goers were able to munch on food, sip on beer, and cheer for their home team.
I am looking forward to this event next year and recommend to men, women and children of all ages.  This event allows you to make many new connections as you stand around eating and discussing how great the food is with your neighbors.  The Taste of DC is the true definition of a good time and provides a venue where you can take advantage of DC's fall foliage, listen to local tunes, and fill your belly with all the great food the area has to offer.  Living in the DC area comes with its advantages because you have so many choices in global cuisines.  The Taste of DC takes all the hard work out of having to trek to each spot individually, you get a little bit of everything in one place.
We are counting down the days until next year.  See you there!
Category: Announcements, Washington D.C.
---