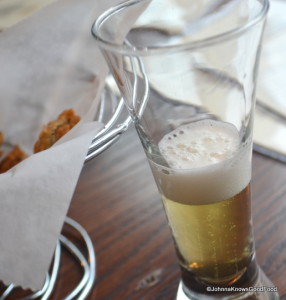 In case you missed it, here are the Top Five Places to Stay Cool & Stuffed this August as seen on my segment last week on ABC 7, Channel 8 Let's Talk Live DC.
The Taste of Linganore is August 10 (12 pm- 5 pm) and the event will showcase some of Frederick, Baltimore and DC's restaurants, caterers and food trucks. And because no meal is complete without the perfect pairing, Linganore wine will be served and restaurants will offer  food and wine pairing suggestions.
The Spirit of Washington Crab Leg Feast on Saturday, August 16th, 2014.  The All-You-Can-Eat Crab Feast Cruise will feature Snow Crab Legs and an assortment of other comfort food classics including Herb Roasted Chicken, Gouda Mac & Cheese, Corn on the Cob, Coleslaw, Mashed Potatoes, a salad bar and more.  Priced at $59.90 per person, guests will board at 11:00am, and cruise from 11:30am to 1:30pm as they lunch on crab aboard the climate controlled Spirit of Washington as well as take in all of the surrounding sights. Following the feast, cruisers are invited to head up to the open-air rooftop and relax while sipping on ice-cold refreshments.
The 6th Annual DC Beer Week is August 17 – 24, 2014. The week-long festival includes event highlights such as DC Brau's 3rd Annual Crab Fest at Quarterdeck Restaurant in Arlington, VA on Monday, August 18; 30 Beers for 30 Years with Sam Adams on Tuesday, August 19 at Longview Gallery, 1234 9th St NW, Washington, DC 20001 and Brewers On The Block at Suburbia, Union Market on Sunday, August 24 as guests are invited to celebrate the end of DC Beer Week 2014 with Suburbia, Red Apron, and all of your favorite local breweries  (Brau, 3 Stars, Atlas Brew Works, Chocolate City, Lost Rhino, Mad Fox, and Port City) as well as frozen slushees from Suburbia and hot dogs from Red Apron Butcher.   www.dcbeerweek.net.
Colorado vs. Delmarva Cornhole Tournament will be held on Saturday, August 23 from 12 Noon to 5 PM.  City Tap House's culinary team will host a neighborhood cookout on their patio from 12 Noon to 5 PM.  Cost is $15 per person to enjoy both chili dogs with Colorado Green Chili and half smokes with sides of macaroni salad, potato salad, and baked beans.  A variety of beers will also be on hand which are priced at $5 each for those participating in the cookout.  Furthermore, guests are encouraged to participate in their cornhole tournament (also known as Tailgate, bean bag toss), which will be held on the restaurant's outdoor patio throughout the afternoon. Each team that registers will be randomly partnered with one of the six brewery teams. All teams are asked to register by Wednesday, August 20.  The grand-prize winner will receive a brewery tour and gift certificate to City Tap House.  Furthermore, the teams associated with the winning brewery will receive a specialty prize pack compliments of that brewery.
If you love music, food and drinks, Trillectro is definitely an event to get your cool on during the summer while stuffing your face.   The 3rd Annual Trillectro music festival returns this August 23rd, an event that's known for bridging the gap between various music genres, and ending the summer with a day of: high-energy performances – DJ's, glowsticks, live painting, fashionistas, moon bounces and of course, food trucks.
*Honorable Mention in case you really want to avoid the outdoors altogether:  Washington, DC Restaurant Week is August 11-17, 2014. More than 100 of Washington, DC's finest restaurants will be offering 3-course lunches for $20.14 and 3-course dinners for $35.14 for this event.
Category: Announcements, MD, Publicity, VA, Washington D.C.
Johnna French is a Harlem NY native with deep roots in Panama, Washington, DC and North Carolina. All four places have heavily influenced her life and the foods she loves today. After graduating Howard University School of Law and beginning her life as a young professional in the city she was led to start Johnna Knows Good Food in November 2007 to keep family, friends and colleagues updated on where to go and what to eat while dining in the nation's capitol. French, who still practices law, leads a team of three writers to cover the ever expanding Washington, DC food scene. French has been featured in print and television, appearing in Washingtonian Magazine and is a regular contributor to various local TV affiliates including WUSA 9, FOX 5 DC and WJLA (ABC Affiliate) News Channel 8. During the 2016-2017 football season, Johnna aired on Comcast Sports Mid-Atlantic (CSN) show, Redskins Life, as the weekly tailgate host. Johnna is currently a regular contributor to the FOX Baltimore Weekend morning show.
---