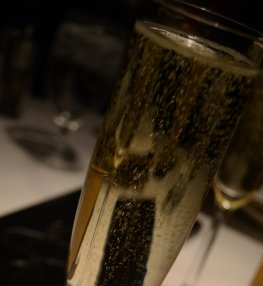 Traditional?
Michel– The Cupid dinner special includes Oysters (*Hmm, liking this aphrodesiac selection…), butter poached lobster with beets and vanilla emulsion, Filet Mignon with red bell pepper sauce and chocolate hearts filled with rose flavored mousse.  $95 per person.
Vinifera Wine Bar & Bistro– For $95 per person, couples will feast on braised veal sweetbreads, butter roasted shelled Maine lobster and olive oil poached black cod, just to name a few.
Quick Getaway?
Bourbon Steak– During the month of February couples have the opp to "Experience More" by booking a two night stay (*receive a $100 credit per couple which can be used toward any of the property's amenities).  For V-day dinner, Maine lobster risotto and warm milk chocolate fondant line the menu.
Take in the View?
Bond 45– Romantic views of the Potomac while you feed your honey a huge chunk of that Fravioli Grande…
The Roof Terrace Restaurant-Alongside offering exclusive views of the District, the Kennedy Center restaurant has a prix-fixe menu with highlights of butternut squash apple cider bisque and braised lamb shank with grilled rapini for $50 per person.
Wine and Cheese Your Lover?
The Virginia Wine Showcase: Sip and learn with your significant other this weekend at Westfields Marriott at Dulles (February 12-13).  More info here.
If the both of you attend enough wine and cheese events to know that you need some lessons in the area, try The Cheese Course.  Classes range from Cheese & Wine 101 to the Stinky Cheese Fest.  More details here.
Cheap Date?
When budgetary restraints come, Z Burger is to the rescue!  The Tenleytown burger joint will give away festive heart shaped burgers (veggie or turkey) on February 13 and 14 to all those who purchase one regular burger and kisses their Valentine at the register.  Pucker up!
Tweets Sweets, a home grown baking shop, will be selling baked goodies outside of Howard University's Carver Dormitory.  Treats can be pre-ordered or picked up on Friday and Sunday.  BrokeCollege students, this sounds like a plan…don't go to the dog house because you're living on a Ramen Noodle budget, a cupcake shows plenty of V-day affection! (*More info found on Twitter by contacting @Tweets_Sweets_)
Brunch?
Cuba Libre Restaurant & Bar is hosting the Everlasting Lovers' Brunch which is probably my favorite deal in this whole lovers fest.  For $30 per person, guests may indulge in as many dishes as they wish from a 26-item brunch menu.  Pros:  Besides this being the absolute feast for $30, it will last throughout the month of February on Saturdays and Sundays from 11 am-3 pm.  Cons:  The whole table has to order this brunch for you to take advantage of it…talk to your people before you set yourself up for a frown…
Stay In?
Make your Valentine think you're this Executive Chef with the "Cupid's Choice" V-day menu at BlackSalt Fish Market & Restaurant.  You can order from 10 am to 7 pm through Friday, February 11, 2011 and pick up on Monday, February 14.  For $95, you get a three-course dinner for two with menu options such as roasted squash bisque with balsamic and spiced mascarpone and split and stuffed Maine lobster with twice baked potatoes.  Watch the look on your dates face when you present these in your kitchen…remember to discard the bags…just kidding.
Category: Announcements, Food.Fun.Stuff., holiday cooking, Washington D.C.
Johnna French is a Harlem NY native with deep roots in Panama, Washington, DC and North Carolina. All four places have heavily influenced her life and the foods she loves today. After graduating Howard University School of Law and beginning her life as a young professional in the city she was led to start Johnna Knows Good Food in November 2007 to keep family, friends and colleagues updated on where to go and what to eat while dining in the nation's capitol. French, who still practices law, leads a team of three writers to cover the ever expanding Washington, DC food scene. French has been featured in print and television, appearing in Washingtonian Magazine and is a regular contributor to various local TV affiliates including WUSA 9, FOX 5 DC and WJLA (ABC Affiliate) News Channel 8. During the 2016-2017 football season, Johnna aired on Comcast Sports Mid-Atlantic (CSN) show, Redskins Life, as the weekly tailgate host. Johnna is currently a regular contributor to the FOX Baltimore Weekend morning show.
---