Tailgate season is here.  Every year, the anticipation gets greater for me not only because of who will take home the Championship title but what foods will trend during the new season.  The staple items will always be there i.e. burgers, hot dogs, etc.  This year I decided it was time to give game day tailgating a facelift with Panini's.  Why Paninis?  Baby French is on the way and I have been craving a deli sandwich since the beginning of the pregnancy.
This is how Johnna's Turkey Reuben Panini was born.  Reuben's are classic hot deli sandwiches that typically combine corned beef, Swiss cheese, sauerkraut and Russian dressing.  I decided to change things up with Smoked Turkey Breast by Prime Fresh Delicatessen by Smithfield meats, which is the fastest growing lunchmeat right now.  Using Prime Fresh meats makes my tailgating job easier because I can buy them well in advance without having to sacrifice quality and flavor or worry about the meat spoiling after a day or two.  I am excited to finally get my fix.
Check out the recipe below and jazz up your tailgating this season with a Panini or two.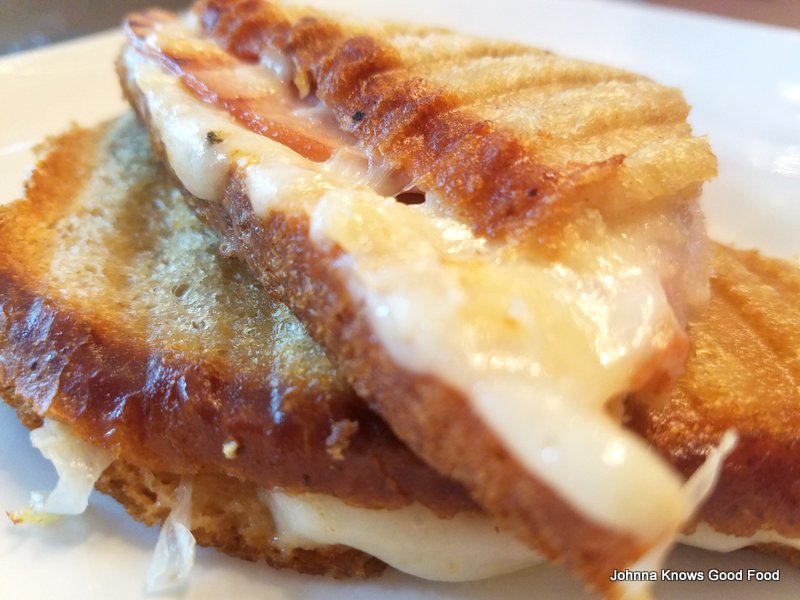 Johnna's Turkey Reuben Panini (Prep Time:  10 minutes  Cook Time:  10 minutes  Servings:  4)
1 loaf of rye bread
4 tbsp. melted unsalted butter
1 package Prime Fresh Delicatessen by Smithfield Smoked Turkey Breast (*found in the refrigerated meat case in the grocery store)
8 slices of Swiss cheese
8 tbsp.  Thousand Island dressing
2 cups Sauerkraut drained
Fresh cracked black pepper (to taste)
Directions:  Spread the butter over both sides of the bread.  Top one side of a slice of the bread with a slice of the Swiss cheese, two (2) slices of the Prime Fresh Turkey Breast, 2 tbsp. of the dressing, a ¼ cup of the Sauerkraut, another slice of the Swiss Cheese and the black pepper.  Add another slice of bread to complete the sandwich.  On a heated Panini grill (or grill pan), add the sandwich and cook on either side for 4-5 minutes until golden brown.  Remove and slice diagonally across the sandwich.  Serve immediately.
Johnna's Tip:  Don't fret if you do not have a Panini grill or a grill pan.  Simply use a frying pan.  You are just trying to get the sandwich heated with a little color and a frying pan can achieve the same goal.
Johnna's Tip, Tip:  Serve with sliced pickles, grilled pickles, fried pickles or plain 'ole potato chips.  This recipe takes less than 20 minutes to prep and cook.  Now you have time for the most important part:  watching your favorite team go for the win.
*Want a chance to win big alongside your favorite team?  Enter for a chance to win $5,000 at PrimeFreshDeli.com/sweeps.  The sweepstakes lasts from September 23 through November 4. The Grand Prize is $5,000.  Good luck!
Category: finger-foods, main dish, Product Review, Recipes
Johnna French is a Harlem NY native with deep roots in Panama, Washington, DC and North Carolina. All four places have heavily influenced her life and the foods she loves today. After graduating Howard University School of Law and beginning her life as a young professional in the city she was led to start Johnna Knows Good Food in November 2007 to keep family, friends and colleagues updated on where to go and what to eat while dining in the nation's capitol. French, who still practices law, leads a team of three writers to cover the ever expanding Washington, DC food scene. French has been featured in print and television, appearing in Washingtonian Magazine and is a regular contributor to various local TV affiliates including WUSA 9, FOX 5 DC and WJLA (ABC Affiliate) News Channel 8. During the 2016-2017 football season, Johnna aired on Comcast Sports Mid-Atlantic (CSN) show, Redskins Life, as the weekly tailgate host. Johnna is currently a regular contributor to the FOX Baltimore Weekend morning show.
---