Starting a restaurant can be a huge endeavor, but also a dream come true for a lot of people with dreams of owning a place to call their own. If you're a chef or aspiring restaurant owner who wants to share the beautiful food of your culture with the world, what better way to do so than with a restaurant, right? And if Italian happens to be your prized cuisine, then you've got a lot of excitement ahead of you. However, it might help to hold your horses just a bit to properly assess the situation. Should you start up an Italian restaurant? If so, just what should be your considerations? What things should you be aware of?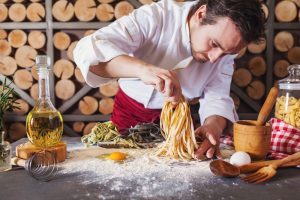 Perhaps some data on starting a restaurant might help you get a better understanding as to just how you can begin your quest towards an Italian restaurant. For instance, you may want to know that restaurants all over the industry earn, in total, a whopping $799 billion combined. This might be thanks to the fact that there are more than a million restaurant locations in the United States alone, with an estimated 14.7 million employees. Interestingly, the demand for restaurants remain high – 39-percent of adults report that they don't spend enough time in restaurants and 61-percent say that they'd like to spend more money for these culinary experiences. What's more, 51-percent of diners also tend to eat out more than once a week. This means that even if there are a ton of restaurants out there, you and your Italian restaurant may have a shot at being successful.
Starting Your Italian Restaurant: It's Not Just About Food
With the above taken into consideration, take a look at  restaurants like https://www.lexrestaurant.com for additional inspiration as to just how you can approach Italian cuisine with a creative twist. Just how exactly should you start a business with Italian cuisine taking the lead? Just how are you going to approach this concept?
Identify the place first, and then study the culture of the residents there: Sometimes, the best way to start a restaurant is to study the location you're planning to build your restaurant in. For instance, if you're catering to the Upper East Side NYC crowd, it's important that you get an initial assessment of the people living there. Identifying these demographics can at least give you a heads up as to the kind of customers you may have.
Are you nearby certain places of residence or work?
Are you near potential competition? What sort of restaurants are there?
What sort of people do they cater to? What sorts of people live there?
Get yourself a target market you should focus on: A lot of generations exist today, each with their own particular take on food interests. Know which kind of market you want to appeal to, so that you can have a much better chance of appealing to them in the long run.
For instance, Generation Y is thrice the size of Generation X, and is generally more inclined to quick-service and fast food restaurants.
Generation X is known for strong family ties, and is typically more inclined to participate more in terms of ambiance and value.
Boomers are just about to be grandparents, which means that family-friendly atmospheres and formal experiences best work with them.
Empty nesters normally are parents who had children who have left the house, which means they're focused more on service and food than the price.
Assess the kind of restaurant style you want to use for your concept: Not all restaurants are the same, and restaurant variants dictate the kind of food and service you're going to provide for your customers.
Quick service or fast food chains have limited menus of items that need to be prepared quickly for customers to enjoy. They often have take out and drive-thru windows.
Upscale restaurants have full tables and offer more quality and ambiance – on top of delicious cuisine. Fine dining is at the highest end of this spectrum.
Midscale restaurants are at the middle, offering a range of both full-service and limited operations. Full-service restaurants will have customers receiving orders on tables, while limited-service will have orders served on counters.
Choose the kind of concept you want to execute: While an "Italian restaurant" appears to be specific, there are still a lot of concepts to choose from when establishing a restaurant. Try to choose a "focus" so that you can help your cuisine be more targeted.
Seafood restaurants offer different kinds of seafood, but can be risky as some of them are seasonal and tend to have varying prices.
Steakhouses are normally family-oriented and have casual environments.
Family-style restaurants appeal to seniors and families because of both quick-service and full-service options. The decor of these restaurants tends to be bland, but comfortable.
Casual dining offer various food items at mid range prices, with themes commonly added into the decor and menus.
Ethnic restaurants, like Italian restaurants, focus on localized versions of ethnic cuisines.
Pizzerias and bakeries focus on extremely specific items, more or less revolving around pastries. Pizzerias have a particular focus on pizza and beer, as well as Italian entrees.
Sandwich shops and coffee houses are extremely appealing thanks to their selection of quick-serve and quick-to-eat items. Some sandwich shops offer a wide selection of desserts and side dishes to customers, and coffee houses often offer a delectable ambiance to accompany their relaxing drinks.
Conclusion: Never Forget To Add Your Own Creative Spin
After taking the above into consideration, it's important to remember that opening an Italian restaurant doesn't always mean just getting the dishes right. It's all about making sure the culture stays intact and making sure you still get to give the restaurant your own creative spin, which is much more challenging than it sounds. Hopefully the tips mentioned above give you a lot of considerations to think about, especially when it comes to working with both Italian cuisine and the theme you want to add into your restaurant.
Category: guest post
---