Roti Modern is a Mediterranean quick-service restaurant that provides delicious healthy food. Similar to Chipotle's concept of individual item selection of high-quality ingredients, instead with Mediterranean options.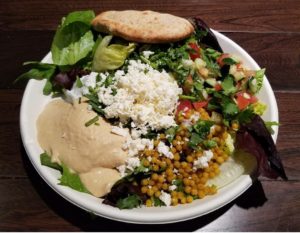 JKGF had the pleasure of checking out some of the new items on the menu. The concept of Roti is to start with a base of rice, salad, laffa wrap or pita bread.  Select a protein, followed by sides and toppings and end with a sauce. As a frequent visitor of Roti, I took this opportunity to try something new.  I ordered the salad with spicy lamb meatballs, hummus, couscous, tomatoes, cucumbers, feta cheese and topped it off if the dill, yogurt cucumbers dressing. 
My meal was light and refreshing, but I left feeling satisfied and not like I had overeaten. With all the different options to choose from, you could easily get go everyday and not have the same meal for weeks.  Guess who will be returning for lunch this week?? 
Category: Lunch, restaurant reviews, Reviews, Washington D.C.
Talisha is from the Washington Metropolitan area. A lover of food, she enjoys a variety of cuisines. In addition to attempting to eat at every restaurant around the beltway, she enjoys International traveling, baking and spending time with her better half.
---