There's no getting away from the fact that most of us love a takeaway on the weekends when we are tired from work and want to treat ourselves to something tasty. The downside to takeaway is that it might taste amazing but it's rather expensive, or at least, most of the time it is.  There's also the fact that while you might enjoy eating it, for most of us greasy takeaways leave us feeling bloated and unhealthy afterward.
To prevent the temptation to treat yourself to a takeaway and then regret it afterward, why not make your own homemade alternative. Fakeaways – aka faux versions of takeaways, can taste just as delicious and be just as satisfying as the real deal, plus they will cost you way less, won't leave you feeling bloated, and are much better for you.
Still not convinced that fakeaways are for you? Then read on, for tips and ideas about preparing the very best pizza fakeaway. Give some of the ideas below a try, and you won't want to go back to takeaways ever again.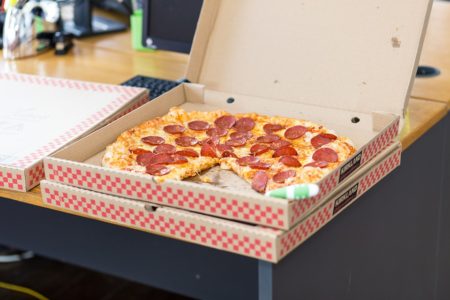 It's base time:
For a healthier alternative to takeaway pizza, there are lots of options, from potato bases and cauliflower bases to wholemeal bases and buckwheat bases. These are all healthier than what you tend to find in your local pizzeria, but which ones taste the nicest and most pizza-like? Well, according to the internet, the best pizza bases are cauliflower bases and wholemeal bases.
A wholemeal pizza base is pretty simple to make, it's just a case of swapping out the plain flour for wholemeal flour in the recipe, and that's it. Or, you can opt to buy a packet of wholemeal pizza dough that just needs water to be added to it. It depends on what works out cheapest and is easiest for you.
As for a cauliflower pizza base, this is also fairly simple to make. What you need is a cauliflower, ¼ cup of Parmesan, ½ teaspoon of oregano, ¼ teaspoon of garlic, and two lightly beaten eggs.  Chop the cauliflower into small florets using a sharp Kamikoto steel knife, then place in a food processor and pulse until it turns into what looks like breadcrumbs. Steam the cauliflower until soft, remove all the moisture with a kitchen towel, and then combine the cauliflower with the parmesan, oregano, garlic, and eggs, creating a doughy type consistency. Put this on a baking sheet on a baking tray and roll into a pizza base and bake for 20 minutes.
It's time to talk toppings:
We've talked about bases but what about toppings? When it comes to what toppings are best to put on homemade pizzas, that completely depends on what your personal preferences are. The great thing about making pizza from scratch is that you don't have to worry about allergens, as you can choose what goes into your food. A large percentage of the country suffer from allergies, from nut allergies to intolerances to gluten, which can make ordering a takeaway somewhat tricky. But when you make your pizza from scratch, you can choose what you put on it.
A tomato sauce is a must. You could buy a jar of this, but actually, it's fairly easy to make. All you need is half a bottle of passata – if you like garlic and basil get one that contains these herbs, a small amount of tomato paste, and salt, pepper, and a little parmesan. Mix this all together, spread onto your pizza base using the back of a spoon, and then add your toppings.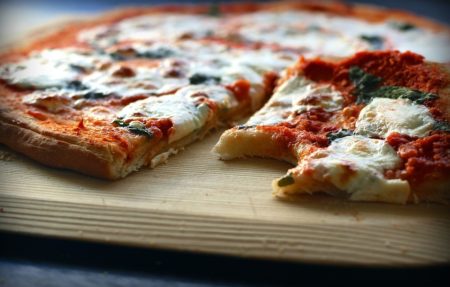 As for your toppings themselves, you have plenty of choice. You could opt to go for a cheese-free pizza if you are on a diet, vegan, or lactose intolerant. Or if you love cheese, you could create a simple margarita packed with lots of different cheeses, from mozzarella to edam.
For a veggie pizza, peppers, mushrooms, tomatoes, chili, and onion make a tasty pizza. For a meaty pizza, a combination of chicken, ham, salami, and chorizo can work well, along with some chili, peppers, and sweetcorn. For a simpler pizza, combining spinach and ricotta could work well. There are so many different options that you could go for; it's just a case of selecting the toppings that you love.
So there you have it, a step by step guide to creating the most delicious fakeaway pizza ever.  The great thing about making your food from scratch is that you can customize it to make it just as you like it.
Category: Food.Fun.Stuff.
Johnna French is a Harlem NY native with deep roots in Panama, Washington, DC and North Carolina. All four places have heavily influenced her life and the foods she loves today. After graduating Howard University School of Law and beginning her life as a young professional in the city she was led to start Johnna Knows Good Food in November 2007 to keep family, friends and colleagues updated on where to go and what to eat while dining in the nation's capitol. French, who still practices law, leads a team of three writers to cover the ever expanding Washington, DC food scene. French has been featured in print and television, appearing in Washingtonian Magazine and is a regular contributor to various local TV affiliates including WUSA 9, FOX 5 DC and WJLA (ABC Affiliate) News Channel 8. During the 2016-2017 football season, Johnna aired on Comcast Sports Mid-Atlantic (CSN) show, Redskins Life, as the weekly tailgate host. Johnna is currently a regular contributor to the FOX Baltimore Weekend morning show.
---