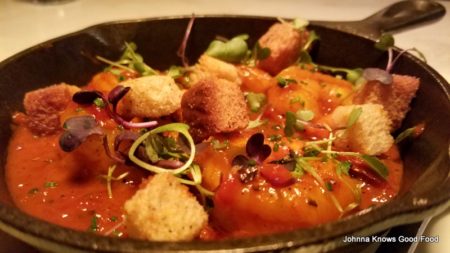 Figuring out where to eat out on a Friday night can be tough if you are also trying to watch your waistline.  Lucky for me, I live in D.C. and the "healthy" lifestyle is always in style so restaurants are constantly trying to cater to it.  Takoda is the latest restaurant serving up a healthy conscious menu for the winter/spring (hard to say winter in this kind of weather, but I digress…).  The restaurant where I had fallen in love with peanut butter and jelly on fried, crispy wings and fried Red Velvet Oreo's has turned over a new leaf.
Good restaurants can do just about anything with their menu and that's the category Takoda falls in.  Besides having a solid beer garden on the rooftop, the restaurant has one of the youngest Executive Chefs, Chef Damien Brown, running the kitchen.  Chef Brown must have an old soul because he was able to reinvent the face of basic, outdated grilled shrimp in a cassoulet of tomato and seasonal veggies.  His work with a puree of brown butter sunchoke under pan-seared trout made me forget about the days when my fish had to be fried for seafood Friday's (seafood Friday's is a real thing…google it;-).
Besides the menu at Takoda, I appreciate the spacious layout.  There are two levels of land for you and your closest cronies to get together for happy hour, a birthday celebration or surprise engagement celebrations (there was one here on our visit).  We went for dessert and were disappointed to find that the Red Velvet Oreo's were a special thing during brunch.  Stick to the brunch version, the regular ones left us feeling lethargic without the sweet, creamy high we were chasing from our last experience.
I could have went to the gym after dinner.  What an epiphany…who knew my Friday night meal was not supposed to weigh me down?!
Category: health concious, restaurant reviews, Reviews, Washington D.C.
Johnna French is a Harlem NY native with deep roots in Panama, Washington, DC and North Carolina. All four places have heavily influenced her life and the foods she loves today. After graduating Howard University School of Law and beginning her life as a young professional in the city she was led to start Johnna Knows Good Food in November 2007 to keep family, friends and colleagues updated on where to go and what to eat while dining in the nation's capitol. French, who still practices law, leads a team of three writers to cover the ever expanding Washington, DC food scene. French has been featured in print and television, appearing in Washingtonian Magazine and is a regular contributor to various local TV affiliates including WUSA 9, FOX 5 DC and WJLA (ABC Affiliate) News Channel 8. During the 2016-2017 football season, Johnna aired on Comcast Sports Mid-Atlantic (CSN) show, Redskins Life, as the weekly tailgate host. Johnna is currently a regular contributor to the FOX Baltimore Weekend morning show.
---