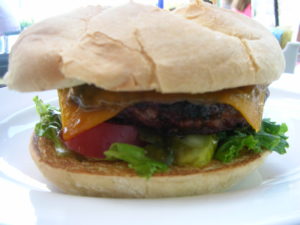 With a perfect blend of ambiance, quality service, good food and drinks, Plan B Burger Bar has a little something special for everyone. Upon entry, the smiling face of the hostess instantly provides a welcoming atmosphere. As I began to slowly panel the environment from left to right, the multitude of seating arrangements immediately catches my attention. With an assortment of love seats accompanied by tables, booth set ups, and bar seating availability, Plan B Burger Bar's interior design is suitable to accommodate the business casual, group outing, and happy-hour crowds all at the same time.
As the name suggests, this dining bistro specializes in tasty burgers. Plan B takes pride in the fact that their burgers contain no hormones and no antibiotics. Each burger is ground by in-house butchers within hours of being served.  Located on Pennsylvania Ave in Northwest DC, this local hot spot is conveniently positioned near two metro stops. So if you're looking for a place accessible to public transportation, Plan B makes the cut.
Speaking of desserts, the Plan B FunniBone provides a legitimate excuse for the chocolate and peanut butter lovers of the world to make some rather serious inquiries into the dessert menu. Consisting of a double chocolate cake, filled with a peanut butter mousse, covered in a chocolate ganache; this signature sweet dish will have you licking your fingers and craving for more!
From the friendly atmosphere, freshly ground burgers, amazing desserts, and superb customer service, Plan B Burger Bar is a must try!
Category: restaurant reviews, Reviews, Washington D.C.
---