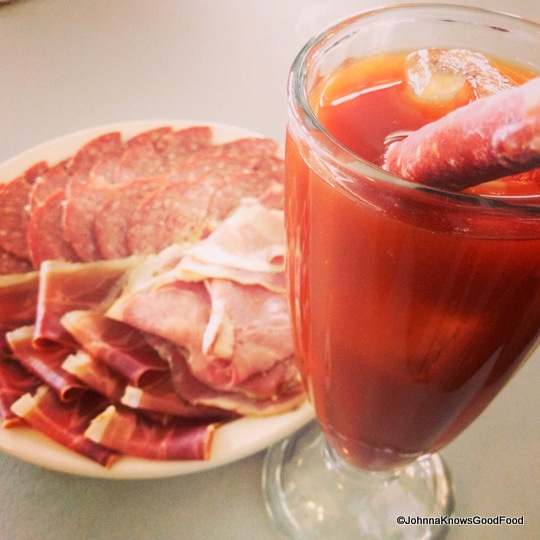 Lamb is the new must have on the DC menu.  For years the lesser understood meat took a backseat to steak, chicken and turkey but it is now the shining star.  Taking up its fair share of space in DC's Union Market, Border Springs Lamb, has proven that its here to stay and has the recipes to prove it.  The American Lamb Board wanted DC to see how lamb is taking over its local menus so they invited a few of the area's well-known foodies to get a glimpse at lamb around these parts.
Beginning the day at Union Market with lamb in my Bloody Mary, I was already excited about having the domestic meat on my plate for the rest of the day.  Zaytinya followed with lamb & lager, Ripple changed it up with lamb tartare and we wrapped the lamb crawl up with dinner at Bourbon Steak.  Lamb is not only all over DC, its actually the chosen favorite these days.  Grill it, skewer it, drench it in chosen sauces, douse it in whatever you fancy, the meat is perfect next to almost anything.
Can't envision the countless ways to add lamb to your life?  That's where this month's Lamb Jam will help you.  On May 20, 2013, from 6 pm-9 pm at Eastern Market, 20 of the areas chef's will showcase a plethora of ways to find your talents in lamb.  JKGF faves such as Nick Stefanelli (Bibiana) and Chef Will Artley (Pizzeria Orso) will be on hand to pick their brains on how they came up with their lamb dishes.
If that doesn't help, just look at how we played with lamb the last time we got our hands on a big chunk of it.  Not bad for someone who was working without an oven at the time.
Category: Announcements, Food.Fun.Stuff., Lamb, Washington D.C.
Johnna French is a Harlem NY native with deep roots in Panama, Washington, DC and North Carolina. All four places have heavily influenced her life and the foods she loves today. After graduating Howard University School of Law and beginning her life as a young professional in the city she was led to start Johnna Knows Good Food in November 2007 to keep family, friends and colleagues updated on where to go and what to eat while dining in the nation's capitol. French, who still practices law, leads a team of three writers to cover the ever expanding Washington, DC food scene. French has been featured in print and television, appearing in Washingtonian Magazine and is a regular contributor to various local TV affiliates including WUSA 9, FOX 5 DC and WJLA (ABC Affiliate) News Channel 8. During the 2016-2017 football season, Johnna aired on Comcast Sports Mid-Atlantic (CSN) show, Redskins Life, as the weekly tailgate host. Johnna is currently a regular contributor to the FOX Baltimore Weekend morning show.
---