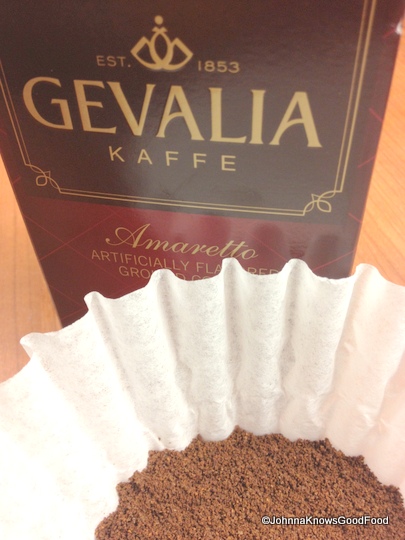 Coffee is mandatory for the beginning of my workdays.  Without it, communicating seems to be a bit of a fog and can become a tad bit annoying.  I know I sound like I have an addiction to the brewed beverage but it is actually good coffee that is a must have in the early morning hours.  These days my mornings begin with Gevalia Amaretto Light Roast coffee.  Piping hot steam spreads the aroma of sweet Amaretto making all the tasks at hand for the day seem like a piece of cake.  It doesn't hurt that the Amaretto reminds me of the likely ending of the day: Happy Hour.
Coffee is an acquired taste and switching from Dunkin Donuts to Starbucks to Gevalia has taken my palate through some changes.  Gevalia proves to be more cost efficient for my wallet and provides the distinct blended coffee bean flavor I need in the mornings.  Afternoons tend to get tough at times and I refuse to have coffee after 10 am, which is where Gevalia's Green Tea with Mango comes into play.  The light hint of mango tricks my palate into believing something sweet might wait at the end without the excess calories.  Now that's what I call an afternoon snack.
*Gevalia website.
Category: Product Review
Johnna French is a Harlem NY native with deep roots in Panama, Washington, DC and North Carolina. All four places have heavily influenced her life and the foods she loves today. After graduating Howard University School of Law and beginning her life as a young professional in the city she was led to start Johnna Knows Good Food in November 2007 to keep family, friends and colleagues updated on where to go and what to eat while dining in the nation's capitol. French, who still practices law, leads a team of three writers to cover the ever expanding Washington, DC food scene. French has been featured in print and television, appearing in Washingtonian Magazine and is a regular contributor to various local TV affiliates including WUSA 9, FOX 5 DC and WJLA (ABC Affiliate) News Channel 8. During the 2016-2017 football season, Johnna aired on Comcast Sports Mid-Atlantic (CSN) show, Redskins Life, as the weekly tailgate host. Johnna is currently a regular contributor to the FOX Baltimore Weekend morning show.
---