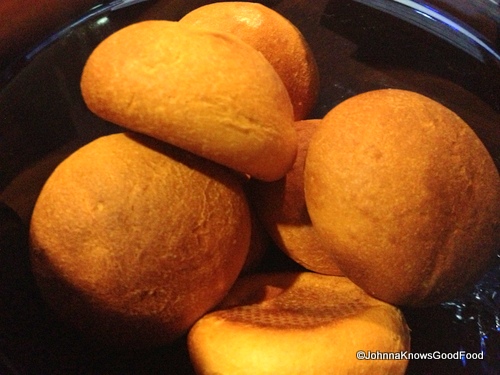 The past six months have ushered in a host of opportunities for me to host mini dinner parties.  The most recent one was a collaboration of a few of my closest friends filled to the brim with none other than soul food.  Anyone who knows yours truly will tell you that this is one of my top three favorite things to eat.  Everything from collards to black-eyed peas to sweet potato pie gets me excited.  It's simply comforting!  When Alexia's Sweet Potato Rolls arrived at my doorstep for a taste test, I almost squealed with excitement.  Sweet. Potato. Rolls.  Yes, Puuuhhhhllleasee.
A quick pop in the oven before the big shindig and the rolls were ready.  They were perfectly toasted so I could accurately judge the moisture where they were delivered frozen.  The rolls complemented the array of other soulful dishes on the table but they could have pumped up the moisture level just a tad.  I enjoyed the slight hint of sweet potato flavor permeating each bite but the moisture would have boosted these to another level.  Despite the moisture factor, the rolls faired well topped in some melted butter and alongside the rest of the spread.
Would I pair these with my meal again?  Yup.  If you are going to do rolls, why not make them sweet??
Category: Food.Fun.Stuff., Product Review
Johnna French is a Harlem NY native with deep roots in Panama, Washington, DC and North Carolina. All four places have heavily influenced her life and the foods she loves today. After graduating Howard University School of Law and beginning her life as a young professional in the city she was led to start Johnna Knows Good Food in November 2007 to keep family, friends and colleagues updated on where to go and what to eat while dining in the nation's capitol. French, who still practices law, leads a team of three writers to cover the ever expanding Washington, DC food scene. French has been featured in print and television, appearing in Washingtonian Magazine and is a regular contributor to various local TV affiliates including WUSA 9, FOX 5 DC and WJLA (ABC Affiliate) News Channel 8. During the 2016-2017 football season, Johnna aired on Comcast Sports Mid-Atlantic (CSN) show, Redskins Life, as the weekly tailgate host. Johnna is currently a regular contributor to the FOX Baltimore Weekend morning show.
---