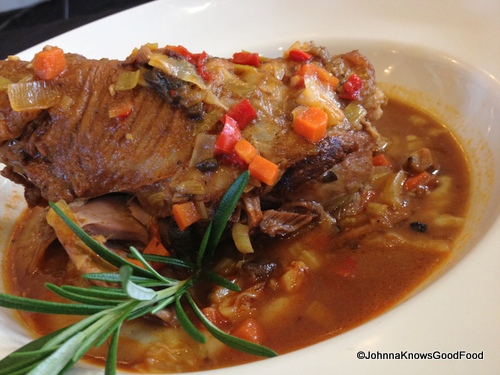 With Easter Sunday a little over a week away, many restaurants are getting ready for the influx of visitors after Easter Sunday church services.  Here are a list of places to consider for your Sunday supper:
1. Easter brunch and supper at Wildfire, Tysons Galleria, 3rd floor, McLean, VA on Sunday, March 31, 2013 from 9:30 a.m. to 8:00 p.m. 
Featured on the dinner menu, available from 9:30 a.m. to 8:00 p.m. will be Spit Roasted Leg of Lamb with garlic, spinach and au gratin potatoes or diners can choose to celebrate with a Traditional Turkey Dinner, Wildfire's signature Roasted Prime Rib of Beef, or Oven Roasted Lump Crab Cakes.  Diners can also choose from their Easter holiday brunch menu from 9:30 a.m. to 2:00 p.m.  For more information or reservations, call (703) 442-9110 or visit Wildfire at wildfirerestaurant.com/mclean.
2. Executive Chef Sebastien Archambault and Chef de Cuisine John Melfi at Blue Duck Tavern, located at 24th and M Streets, NW, 20037, are introducing new seasonal, American classics to the restaurant's Easter menu.  Brunch will be offered from 10:30 a.m. to 3:30 p.m. on Sunday, March 31 at $95 per person for adults, and $45 for children between six and 12.  Children under six years of age are complimentary.  The three-course, fixed-price menu begins with a choice of starters, including seasonal salads, meats, breads and cheeses, on display throughout the open kitchen.  Next up, guests will have a choice of entrée and sides from the holiday menu.  Highlights include Duck Confit Hash with Fried Egg, Green Peas, Chanterelles and Romaine Heart; Scrambled Eggs with Rock Shrimp, Hash Brown Potatoes, and Caramelized Vidalia Onions; Wood Oven Roasted Scallops with Garden Ratatouille and Lemon Vinaigrette; Lobster Ravioli with King Trumpets, Tarragon and Farm Butter, as well as Roasted Lamb Rack with Spring Garlic, Rosemary Jus and Lemon Confit.  Brunch concludes with seasonal desserts, which include Rhubarb Blackberry Crumble; Bourbon and Date Pecan Pie; Pears Poached in Prosecco, as well as Sour Cream Cheesecake with Brandied Cherries.  Please call (202) 419-6755 or visit www.blueducktavern.com for reservations. 
 
3. The Bombay Club at 815 Connecticut Ave, NW, 20008, will be offering its Champagne buffet brunch this Easter.  Guests can enjoy live piano music and a buffet of traditional brunch fare with highlights to include Lamb Palak with Spinach, Garam Masala and Ginger; Shrimp Pepper Masala with Black Pepper, Tomato and Tamarind; Achari Baingan with Eggplant, Onion, Fennel, Mustard and Fenugreek, as well as Paneer Makhni with Cottage Cheese, Fenugreek and Cinnamon.  Easter brunch is priced at $25 per person, or $35 with bottomless Champagne (tax and gratuity not included), and will be served from 11:30 a.m. to 2:30 p.m. on Sunday, March 31st.  For more information, please call (202) 659-3727 or visit http://www.bombayclubdc.com. 
 
4.  Assagi Mozzarella Bar, located at 4838 Bethesda Avenue in Bethesda, MD, 20814, is serving an a la carte menu featuring a variety of specials prepared by Chef/Owner Domenico Cornacchia.  Highlights include Crispy Smoked Mozzarella with Eggplant Puree and Frisée Salad; Shrimp and Scallops Skewers over a Chick Pea Puree and Baby Spinach; Tagliatelle Pasta with a White Lamb Ragu and Green Peas; Pan Seared Halibut Fillet with Crispy Pancetta, Pearl Onions, Butternut Squash and Manila Clams, as well as Pan Roasted Beef Tenderloin over a Potato Leek Cake with Forest Mushrooms and Marsala Cream.  For dessert, guests can choose from sweet treats such as Traditional Neapolitan Spelt and Cream Tart or the Vanilla and Hazelnut Bombshell with Crispy Chocolate and Berry Sauce.  Prices range from $9 to $37 each.  Guests can also opt for a $69 per person (exclusive of tax and gratuity) five-course tasting menu for the entire table.  For reservations or additional information please call (301) 951-1988 or visit www.assaggirestaurant.com.
 
5.  Tel'Veh Café & Wine Bar, located at 401 Massachusetts Avenue, NW, 20001 is offering an a la carte menu featuring a variety of specials crafted by Executive Chef Dimosthenis "Dimo" Kolouas.  The menu will be available from 11 a.m. to 3 p.m.  Standouts include Htipiti, Aged and Roasted Feta with Chili Flakes; Cacik, Yogurt, Cucumber and Garlic; Tel'Veh Omelette with Breakfast Sausage, Parmesan and Arugula; Smoked Salmon with Poached Egg over an English Muffin topped with Hollandaise Sauce; Hazelnut Crepe with Nutella and Fresh Berries, as well as Smoked Ham Crepe with Provolone, Bell Peppers and Cream.  Prices range from $6 to $12 each dish.  Guests can also opt for a $29.95 per person (exclusive of tax and gratuity) unlimited prix fixe brunch for the entire table.  For reservations, call (202) 758-2929 or visit www.telveh.com.
 
6.  The Angler's Inn, located at 10801 MacArthur Boulevard, Potomac, MD, 20854, will feature a menu prepared by Executive Chef Nick Palermo.  The three-course, prix fixe menu is priced at $65 per person (tax and gratuity not included).  His menu includes House-smoked Salmon with Micro Arugula, Capers and Gribiche; Hudson Valley Foie Gras Torchon with Poached Raspberries, Toasted Walnuts and Brioche Toast; Crispy Rockfish with Ratatouille, Sweet Basil and Garlic Chips; Berkshire Pork Loin with Braised Cabbage, Applewood Smoked Bacon and Redskin Mashed Potatoes; Classic Eggs Benedict with American Caviar, Hollandaise and Potato Hash, as well as Herb Roasted Rack of Lamb with Pee Wee Potatoes, Baby Artichokes, Olives, Poached Tomatoes, Chicory and Lamb Jus.  For dessert, diners have the option of sweet treats including a Milk Chocolate Bomb with Caramel Ice Cream; Classic Crème Brûlée, or Fresh Berries and White Chocolate Parfait.  Easter Brunch at Angler's Inn will be served from 11 a.m. to 7 p.m.  For reservations or additional information please call (301) 365-2425 or visit www.oldanglersinn.com.
 
7.  From March 31st through May 5th, José Andrés and the culinary team at Zaytinya, located at 701 9th Street, NW, 20001, invite Washingtonians to celebrate the Greek Easter.  The five-week festival kicks off on Western Easter and continues until Greek Orthodox Easter.  The festival will feature special menu offerings designed by Head Chef Michael Costa inspired by the traditions of Greek Orthodox Easter and Lent. Selections include: Lachanosalata, Brussels Sprouts Leaves, Olive Oil, Lemon and Smoked Walnut Skordalia; Sopa Me Lahanika Aladoti, Lenten Vegetable Puree Soup with Cauliflower, Rice, Mushrooms, Onions, Garlic, Bay Leaves, Thyme, Black Pepper, Cumin and Tahini Garnished with Crispy Cauliflower and Black Tahini, as well as Clam Stew from Lefkada with Basmati Rice, Scallions, Garlic, Black Pepper and Lemon.  Dishes are priced from $8 to $14 each.  To open and close this spring festival, Zaytinya will also showcase a $35 per person (excluding tax and gratuity), prix fixe brunch menu, featuring spit roasted lamb shoulder on Sunday, March 31st, and Sunday, May 5th.  For reservations and additional information please call (202) 638-0800 or visit www.zaytinya.com.
 
8.  At 1789 Restaurant, located at 1226 36th Street, NW, 20007, Executive Chef Anthony Lombardo will be dishing up an Easter menu that incorporates spring ingredients along with leg of lamb, locally sourced from Cumberland Valley, Maryland.  The a la carte brunch will be served from 10 a.m. to 3:45 p.m., with the fuzzy Easter Bunny making a guest appearance at each table, delivering candy to the children.  Whole Roasted Leg of Lamb will be served at brunch, marinated in garlic and mint, then roasted slowly and sliced thin, served with potato gratin and a natural lamb jus.  There will also be breakfast items like Eggs Chesapeake and Spring Vegetable Frittata.  During Easter brunch service the first and second courses include the entrée price, which ranges from $28 to $36.  To conclude the day, an a la carte Easter dinner menu will be served from 4 p.m. to 8 p.m. Items will include appetizers like Duck Confit Strudel with Foie Gras Cream Sauce and Salt Roasted Beets with House Made Goat Ricotta, and entrées like Rack of Lamb and Chesapeake Bay Rockfish.  For reservations or additional information please call at (202) 965-1789.
 
9.  Executive Chef/Owner Domenico Cornacchia and Owner/Operator Aykan Demiroglu of Bistro Vivant, located at 1394 Chain Bridge Road in McLean, VA, 22101, are offering an a la carte menu with Easter specials from 11:30 a.m. to 9:30 p.m. on Sunday, March 31st.  Chef Domenico and newly appointed Chef de Cuisine Ed Hardy will feature appetizer options such as Green Pea Hummus & Easter Radishes; Boudin Blanc & Noir Scotch Egg with Frisée Salad, and the Fried Rabbit with Lavender, Thyme and Meyer Lemon Aioli.  Main dishes include House Cured Ham and Pork Belly Cassoulet; Pain Perdue Avec Foie Gras with Stewed Apples; Lamb Tenderloin with Smoked Potato Fondue and Rhubarb Compote, as well as Duck N' Waffles with Duck Confit, Wild Rice Waffles, Chicken Liver Butter and Apricot Syrup.  Guests will also enjoy the selection of decadent desserts, which include Carrot Madeleines and Champagne Sabayon, or the Rhubarb Crumble with Strawberry Gelato.  Prices range from $12 to $22 for appetizers, $24 to $26 for entrées and $11 to $12 for desserts.  For reservations or additional information please call (703) 356-1700 or visit www.bistrovivant.com.  
 
10.  The Carolina Kitchen, with two locations in Hyattsville, MD, and Largo, MD, will offer an Easter menu prepared by Executive Chef/Owner Lance London.  Catering orders can be made from 10 a.m. to 5:30 p.m. daily through March 27th and all pick-ups will be scheduled on March 30th.  The menu begins with a choice of entrée: Roasted Whole Turkey or Deep Fried Cajun Turkey; Pineapple Honey Glazed Ham, or the Rosemary & Garlic Roasted Leg of Lamb.  Prices range from $89 to $120 each, and each entrée serves 12 to 15 guests.  An a la carte menu is available for the perfect accompaniment.  The lineup includes Mac & Cheese; Collard Greens; Candied Yams; String Beans; Cabbage; Potato Salad; Black-Eyed Peas; Coleslaw, as well as Baked Beans.  Prices for sides range from $42 to $48 per half pan, which serves 12 to 15 guests.  Lance London's famous cornbread muffins are also available and priced at $9 for a dozen.  The Carolina Kitchen is located at 800 Shoppers Way in Largo, MD, 20774; (301) 350-2929.  The Carolina Kitchen Bar & Grill is located at 6501 America Blvd in Hyattsville, MD, 20782; (301) 927-2929.  For additional information on either location please visit: www.thecarolinakitchen.com.
 
11. The Oval Room, located at 800 Connecticut Ave, NW, 20006 will offer a prix fixe Easter menu, specially crafted by James Beard Foundation "Best Chef Mid-Atlantic" nominee Executive Chef Tony Conte.  The menu features three-courses, which will be served from 11 a.m. to 3 p.m. for $50 per person, or $75 per person with wine pairings (tax and gratuity not included).  Guests will be delighted with dishes such as White Asparagus Soup with Sorrel, Pine Nuts and Brown Butter; Carolina Sweet Shrimp with Roasted Garlic Butter, Pistachio and Lime; Braised Lamb Shoulder with Charred Eggplant and Spring Onion, as well as Fluke with Mushroom-Yuzu Broth, Maitake and Sesame Seasoning.  For dessert, Pastry Chef Cicely Austin is planning a Fennel, Blood Orange Vacherin and Vanilla Yeast Cake; Strawberry Cheesecake with Graham Cracker Ice Cream; Soft Chocolate Ganache with Spiced Short Dough and Ginger Ice Cream, as well as Cinnamon Doughnuts with White Coffee Ice Cream.  For more information, please call (202) 463-8700 or visit http://www.ovalroom.com.
 
12.  Bibiana Osteria-Enoteca, located at 1100 New York Ave, NW, 20005, (entrance on 12th and H Streets side) will offer a menu crafted by Executive Chef Nicholas Stefanelli.  Chef Stefanelli has prepared a three-course, prix fixe menu, which includes an Italian sampling of antipasti for the table followed by a choice of secondi and tasting of desserts to share.  Priced at $45 per person, and $20 for children under 12 (tax and gratuity not included), the menu includes standouts such as, Fried Artichokes with Parsley and Lemon; Saffron Rice Fritter with Peas, Prosciutto, Mozzarella, and Tomato Sauce; Slow Roasted Lamb Shoulder with Farro, Fava Beans and Pecorino Zabiglione; Carnaroli Risotto with English Peas and Parmigiano; Ravioli filled with Cacio Romano, Tomato, Marjoram and Basil, as well as Poached Rockfish, Olive Oil Crushed Potatoes, Onion Compote.  For the perfect ending, a dessert tasting is designed to share with families, and includes Cassata Siciliana and the Pastiera Napoletana.  Bibiana's Easter feast will be available from 11 a.m. to 4 p.m. on Sunday, March 31st.  Valet parking is available for $8.  For reservations or additional information please call (202) 216 9550 or visit www.bibianadc.com.
 
13.  The Hamilton, located at 600 14th Street, NW 20005, on the corner of 14th and F streets is serving its full brunch menu with Easter specials. Guests will have the option of Executive Chef Sal Ferro's House-made Hot Cross Buns, French Toast with Rhubarb Jam, Orange Marmalade Glazed Ham with Scalloped Potatoes, Half Rack of Spring Lamb, English peas, carrots, and fingerling potatoes. Dessert specials for the day are Lemon Meringue Pie and Coconut Cream Cake. The Easter Bunny will also be making an appearance at The Hamilton, as well as all of Clyde's Restaurant Group's establishments, to give out candy, hugs, and provide photo opportunities for young diners.  For reservations, please call (202) 787-1000. Easter brunch is served from 8:30 a.m. to 4 p.m..
14.  Located at 675 15th Street, NW, 20005 in downtown DC, Old Ebbitt Grill is offering an a la carte brunch menu with Easter specials from 8:30 a.m. to 4:00 p.m. The Easter menu prepared by Executive Chef Robert McGowan, features Cream Cheese Crepes with honey-cinnamon baked apples; Cheddar cheese grits and scrambled eggs; Grilled Leg of Lamb with spring vegetables, roasted potatoes, herb au jus and cured black olive tapenade, and Jumbo Lump Crab Cakes with baked spice sweet potato, sautéed green beans, and citrus-cranberry tartar sauce. Brunch offerings range from $5.95 to $17.95 in price. From 4:00 p.m. to 12:00 a.m., Old Ebbitt Grill will serve an Easter Dinner menu featuring dishes such as Pork "Tonkatsu," a traditional Japanese pork cutlet dish served over steamed rice; Chesapeake Bay Rockfish with Yukon gold potatoes, spring onions, Spanish chorizo, garlic, spinach and oil cured olives with a fennel and blood orange slaw, and Grilled Calf's Liver with caramelized onions, bacon, mashed potatoes, and green beans. Dinner entrées range from $13.95 and $20.95. For reservations or more information, please call (202) 347-4800 or visit www.ebbitt.com
 
15.  At 701 Restaurant, located at 701 Pennsylvania Avenue, NW, 20004, brunch will be offered for $45 per person for a three-course menu, or $22.50 for children 10 and under, on Sunday, March 31st.  Brunch will be available from 11 a.m. to 3 p.m. and dinner will be served from 5 p.m. to 9:30 p.m.  Prepared by Executive Chef Tony Conte, entrées include Ricotta Ravioli with peas and spring onions; Braised Lamb Shoulder with semi-fried carrots, yogurt and herb puree; Seared Scallops with red lentils, crushed squash and curry broth; Sake-Miso Glazed Salmon with bok choy, water chestnuts and soy oil, as well as Grilled Strip Steak with olive oil crushed potatoes, onion compote and hollandaise.  For dessert guests can choose from Coconut Panna Cotta with passion fruit curd and sesame tuile; Carrot Cake with basil ganache, carrot ginger sorbet and spiced walnuts; Citrus Doughnuts with Grand Marnier cream, candied kumquats and yuzu 'noodle', as well as Bittersweet Chocolate Ganache Tart with dark cocoa, chocolate sorbet and vanilla bean chantilly created by Pastry Chef Donald Smith.  For entertainment, 701's live jazz duo of piano and bass will be performing during Easter service.  Valet parking is available all day for $8.  For reservations or additional information please call (202) 393-0701 or visit www.701restaurant.com.
16. In addition to the restaurant's regular brunch menu Cedar's Chef Aaron McCloud will prepare a three-course prix fixe brunch menu for Easter weekend.  Cedar is located at 822 E Street NW, Washington, DC 20004.  The $40 per person menu will be served on Saturday, March 30 (11 am- 3 pm) and Sunday, March 31 (10 am-3 pm). It includes a first course warm English pea cream soup or a shellfish stew of mussels, oysters and lobster and three main course  selections: house-made rabbit sausage and eggs, roasted lamb from Maryland's Martin's Farm or a spring vegetable tart. Chef McCloud's version of a key lime pie and a peanut butter cup complete the courses.  www.CedarDc.com
 
17.  Wit & Wisdom, a Tavern by Michael Mina, will offer an Easter Buffet Brunch.  On Sunday, March 31st, Chef Clay Miller will feature breakfast dishes such as scrambled eggs, bacon and breakfast potatoes, and frittata with wild mushrooms & spinach.  An assortment of additional fare includes an artisanal cheese & olive bar, fresh fruit, farmer's market salads, a yogurt & parfait bar and a Chef's Station serving spice ham and poached salmon. Homemade pastries from Food & Wine's People's Best New Pastry Chef Chris Ford will be available as well.  2 hour seatings will be available from 8:00am – 2:00pm.  Pricing is $45 per adult, $30 for kids (12 & under).  Reservations are required, contact Shannon Toback at (410) 223-1464 or shannon.toback@fourseasons.com
Category: Food.Fun.Stuff., holiday cooking, Washington D.C.
Johnna French is a Harlem NY native with deep roots in Panama, Washington, DC and North Carolina. All four places have heavily influenced her life and the foods she loves today. After graduating Howard University School of Law and beginning her life as a young professional in the city she was led to start Johnna Knows Good Food in November 2007 to keep family, friends and colleagues updated on where to go and what to eat while dining in the nation's capitol. French, who still practices law, leads a team of three writers to cover the ever expanding Washington, DC food scene. French has been featured in print and television, appearing in Washingtonian Magazine and is a regular contributor to various local TV affiliates including WUSA 9, FOX 5 DC and WJLA (ABC Affiliate) News Channel 8. During the 2016-2017 football season, Johnna aired on Comcast Sports Mid-Atlantic (CSN) show, Redskins Life, as the weekly tailgate host. Johnna is currently a regular contributor to the FOX Baltimore Weekend morning show.
---