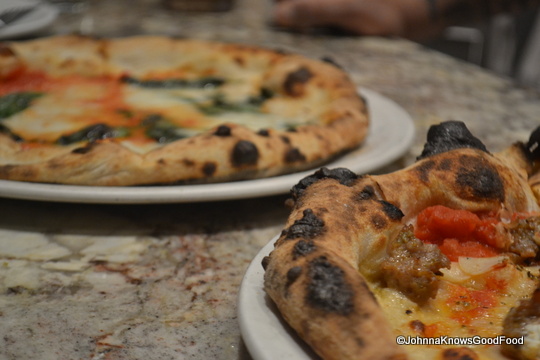 There are chefs and then there are genius's in the kitchen.  Chef Will Artley stands at the forefront of the DC areas geniuses in the kitchen.  Seeing him depart from Evening Star Café was bitter sweet after finding out he was only moving up the street to Pizzeria Orso.  What a relief.  I recently visited Chef Artley at his new home and it looks like he's made quite a name for himself in the neighborhood in a short period of time.  The regulars waved as they entered and departed the restaurant, the staff cracked a few jokes with him here and there, and the menu has his signature all over it.
While bites like the Arancini, Tater Tots and Brussels Chips can leave you lusting for more, it's the pizza that's the real show stopper.  Keeping with the Neapolitan style pizza, Chef Artley keeps it not only thin but simple.  The Margherita DOC was my favorite (Tomato, bufala mozzarella and basil) where the comfort dish is necessary after a long day/week in a DC office.
Of the many flavor combinations and out-the-box recipes I have witnessed Chef Artley concoct, on this night it was his explanation of using sourdough versus yeast dough to create his pizzas.  Sourdough is a rarity around these parts and the contrast in taste is evident in Orso's pizza.  Because Pizzeria Orso prides itself on maintaining the traditional Neapolitan style pizza, the dough is NEVER refrigerated.  Fresh sourdough pizza every day?? Yes, please.
A trip across the bridge is often necessary when a chef like Chef Artley is making the food.  The creativity, taste and welcome feeling that you get at Orso are reason enough for me to return.  Italy may not be around the corner but a trip to Orso is…pizza night, anyone??
*400 S Maple Ave  Falls Church, VA 22046
(703) 226-3460 Website
Category: Food.Fun.Stuff.
Johnna French is a Harlem NY native with deep roots in Panama, Washington, DC and North Carolina. All four places have heavily influenced her life and the foods she loves today. After graduating Howard University School of Law and beginning her life as a young professional in the city she was led to start Johnna Knows Good Food in November 2007 to keep family, friends and colleagues updated on where to go and what to eat while dining in the nation's capitol. French, who still practices law, leads a team of three writers to cover the ever expanding Washington, DC food scene. French has been featured in print and television, appearing in Washingtonian Magazine and is a regular contributor to various local TV affiliates including WUSA 9, FOX 5 DC and WJLA (ABC Affiliate) News Channel 8. During the 2016-2017 football season, Johnna aired on Comcast Sports Mid-Atlantic (CSN) show, Redskins Life, as the weekly tailgate host. Johnna is currently a regular contributor to the FOX Baltimore Weekend morning show.
---