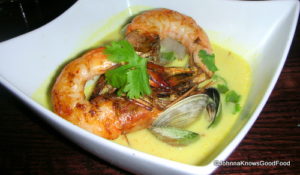 Zengo introduces its "Test Kitchen" series this month.  Every few months, Chef Richard Sandoval and his culinary team at Zengo research and develop new recipes featuring the cuisine and spirits of one Latin and one Asian country.  The result is a menu of specialty small plates and cocktails that showcase the flavors and techniques from each region.  These dishes will be new additions on Zengo's menu, marked with a special "TK" symbol to note that it is an exclusive and limited time option. Available from October 2nd to December 31st, Chef de Cuisine Graham Bartlett is preparing Test Kitchen: Korea Mexico, which will be offered for dinner service beginning at 5 PM.
Korea Mexico's menu will showcase five plates with new interpretations such as Ceviche Dorado, with mahi-mahi, aji panca, kimchee puree, cucumber and cantaloupe; Korean Fried Chicken with fermented chile, roasted corn-potato salad and pickle chayote; Adobo Roasted Chicken with bok choy kimchee, chorizo and potato in a garlic-lemon-chicken jus and Hot Stone Bibimbap of pork belly, prawns, sushi rice, Asian vegetables, salsa roja topped with a fried egg.  The Korea Mexico menu items range in price from $11-$27.
Category: Announcements, Food.Fun.Stuff., Washington D.C.
Johnna French is a Harlem NY native with deep roots in Panama, Washington, DC and North Carolina. All four places have heavily influenced her life and the foods she loves today. After graduating Howard University School of Law and beginning her life as a young professional in the city she was led to start Johnna Knows Good Food in November 2007 to keep family, friends and colleagues updated on where to go and what to eat while dining in the nation's capitol. French, who still practices law, leads a team of three writers to cover the ever expanding Washington, DC food scene. French has been featured in print and television, appearing in Washingtonian Magazine and is a regular contributor to various local TV affiliates including WUSA 9, FOX 5 DC and WJLA (ABC Affiliate) News Channel 8. During the 2016-2017 football season, Johnna aired on Comcast Sports Mid-Atlantic (CSN) show, Redskins Life, as the weekly tailgate host. Johnna is currently a regular contributor to the FOX Baltimore Weekend morning show.
---