Recently I visited EPIC Smokehouse and was blown away.  The new restaurant offers the Pentagon City area a fresh new option to its residents.  Within walking distance of the Metro and ample street parking, it is at the top of my list for places to visit while in the area.  Fresh options and flavor combinations ensure the experience will be new and different every time.  I recommend planning several trips to ensure you try everything they have to offer, where their portions are generous leaving little room to have multiple courses.  Alongside inviting food, EPIC Smokehouse delivers exceptional service.  The restaurant stands as a triple threat: great food, great location and great service.  These attributes have made EPIC Smokehouse one of my top options for a night out of the town or a quick bite on the way home from work.
Because I tried nearly everything (*and loved it), I had to share so here are a few of my favorites from my visit:
Starter:
Apple Wood Smoked Scallops
Entrée:
Chipotle Sea Bass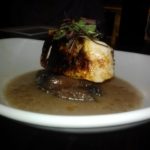 Dessert:
Candied Bacon Cupcake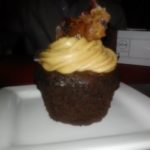 www.EPICSmokehouse.com
Category: Announcements, Food.Fun.Stuff.
---