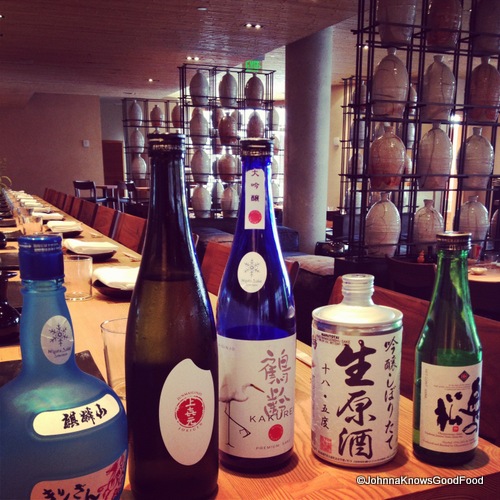 As unbelievable as it may seem, Baltimore has been on my list of places to visit for months.  Located about 45 miles outside of DC, I have always been curious to see what the Harbor really has to offer.  The opportunity presented itself when Girl Meets Food and Dining in DC decided it was time for a quick girls weekend away.  Between being nonstop food bloggers and maintaining a half of a personal life, we all needed some decompression time but with good food, of course.  Baltimore was a quick fix so we loaded up the GMC Terrain and jetted down 95 North for a weekend of serious R&R.
After checking in at the Four Seasons Baltimore, our first stop was Pabu for "The Art of Sake" introductory class.  Typically a class in the center of my getaway would totally turn me off except when the teacher is as affluent as Tiffany Dawn Soto, Master Sake Sommelier, and the subject is sake.  Sake is a road less traveled in my life mostly because I was often intimidated by the selections.  What do I order? Where do I begin? What pairs best with what? These are the questions that crossed my mind often until I entered Pabu for Sake 101.  Now I am back, armed and ready to share with you everything about ordering Sake.  I promise you will NOT be bored and you will be ready to order Sake like a Pro (if you're not already doing so) on your next sushi outing!
The best way to start is by telling you some of the common misconceptions.
Sake should not be served hot.  This is an old misconception that was developed during World War II about sake.
Sake does not give you a bad hangover.  It's the company you allow it to keep with all those shots of vodka the night before.
Sake is not high in alcohol content, sugar or calories.  Sake holds about 25-30 calories per ounce.
Sake is a simple ordeal: rice, water, yeast and Koji-kin.  The actual sake brewing process is what determines the variations of sake that you see on restaurant menus.  Several key steps of the sake brewing process include:
Rice milling.  The key thing to know about rice milling is that the more they mill down the rice, the higher the sake price, the higher the quality.
Preparing for fermentation.  Washing and soaking the rice is probably the most important part of the process which takes approximately 10 minutes.
Koji-making. Mold is essential to the sake making process so this is sprinkled in and massaged into the rice for equal distribution.
Pressing & Dilution.  The moromi is hung in bags to allow the raw sake to drip.
Bottling.  The sake is aged for several months and then ready for delivery.
The above info may be a bit of a bore unless you're a food geek like me, but the bottom will certainly spark you interest because this is how you can determine what sake suits your preference.  There are different sake preparation grades, Junmai (which means a simple sake made up of rice, water, yeast & koji) and Honjozo (which is a 5 ingredient sake that has heightened aromatics).  The next step is looking for the name that distinguishes the quality, ginjo (40% of the grains are milled away) and daiginjo (a minimum of 50% of the grains are milled away).  The last step is to look at the designation which could fall under such categories as genshu (Usually has about 19% alcohol content), koshu (aged sake, very expensive) and nigori (best for desserts).  Based on those designations, you can already guess what my favorite sake is:  Junmai Daiginjo Koshu.  Pure,  50% milled away, aged sake, baby!
During our class we had the opportunity to taste test a Junmai, Junmai Ginjo, Honjozo Daiginjo, Junmai Ginjo Nama Genshu and Junmai Daiginjo.  The Honjozo Daiginjo fancied my palate with a chilling slightly fruity flavor above the rest.  With Pabu having the highest allocation of sake (and boasting three bottles of Koshu a year), it was fitting that they host this sake class.  Tiffany explained how she "bumped" into becoming a sake expert after feeling "ignorant" about the subject when teaching a hospitality course at the University of Nevada- Las Vegas.  Much like Tiffany entered her sake trek, I feel the same way after taking this course.
I left class feeling eager to learn more about the best sake making regions, food pairings and various sake making processes.  There is so much more to learn about sake and I want to explore this road less traveled.  Learning how to order the right sake is much like knowing what type of wine to order.  As Tiffany pointed out many Americans order the Nigori alongside their sushi.  As an FYI, Nigori is the equivalent of having a milkshake before dinner…would you really want a milkshake before dinner?! Learn how to order.
For more classes on sake, check Pabu's website here.
Category: Announcements, Etiquette Tuesday, Food.Fun.Stuff.
Johnna French is a Harlem NY native with deep roots in Panama, Washington, DC and North Carolina. All four places have heavily influenced her life and the foods she loves today. After graduating Howard University School of Law and beginning her life as a young professional in the city she was led to start Johnna Knows Good Food in November 2007 to keep family, friends and colleagues updated on where to go and what to eat while dining in the nation's capitol. French, who still practices law, leads a team of three writers to cover the ever expanding Washington, DC food scene. French has been featured in print and television, appearing in Washingtonian Magazine and is a regular contributor to various local TV affiliates including WUSA 9, FOX 5 DC and WJLA (ABC Affiliate) News Channel 8. During the 2016-2017 football season, Johnna aired on Comcast Sports Mid-Atlantic (CSN) show, Redskins Life, as the weekly tailgate host. Johnna is currently a regular contributor to the FOX Baltimore Weekend morning show.
---