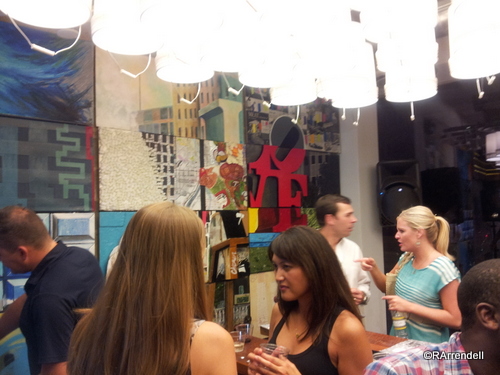 On Thursday, July 5, 2012, upscale sandwich and salad crafters Taylor Gourmet opened their fifth location joining the Dupont Circle neighborhood in the DC Metro area. The Dupont Circle location sits on the corner of 19th and M Streets NW. That night, its walls were packed with fans of the gourmet hoagie shop and adorned with a permanent art installation that featured the work of local artists, many of who attended the opening. One lone server weaved his way through the crowd with a modest tray of bite-sized portions of fresh hoagies.
The turkey was cold and crisp, accented by sharp provolone and tomatoes. The salami was bold and flavorful, on their signature "old world Italian sesame seed" loaf. Beer and wine were available by the cup and if those didn't quite quench thirst, Boylan's natural sodas were self-serve at the fountain.
If the beat from the DJ's speakers and the buzzing chatter were too much, visitors could enjoy their hand-crafted sandwiches outside at the location's elevated wood and metal combo table. With Taylor's loyal following, it's sure to be a great addition to the neighborhood.
Category: Announcements, Food.Fun.Stuff., Washington D.C.
Johnna French is a Harlem NY native with deep roots in Panama, Washington, DC and North Carolina. All four places have heavily influenced her life and the foods she loves today. After graduating Howard University School of Law and beginning her life as a young professional in the city she was led to start Johnna Knows Good Food in November 2007 to keep family, friends and colleagues updated on where to go and what to eat while dining in the nation's capitol. French, who still practices law, leads a team of three writers to cover the ever expanding Washington, DC food scene. French has been featured in print and television, appearing in Washingtonian Magazine and is a regular contributor to various local TV affiliates including WUSA 9, FOX 5 DC and WJLA (ABC Affiliate) News Channel 8. During the 2016-2017 football season, Johnna aired on Comcast Sports Mid-Atlantic (CSN) show, Redskins Life, as the weekly tailgate host. Johnna is currently a regular contributor to the FOX Baltimore Weekend morning show.
---