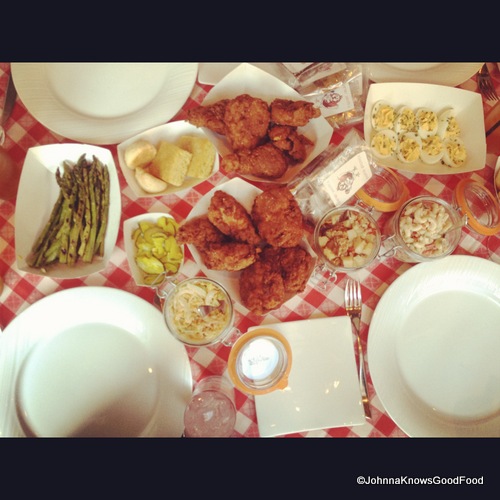 Five ways to enjoy the sweltering heat and learn a little something while you're at it…:
Executive chef Peter Smith and his team have swapped out the white tablecloths for the red-checkered version for the Patio Picnic lunch. They tossed out the china and silver for colorful plastic plates and utensils. Offered daily at lunch, dinner, and to-go throughout the summer, Chef Smith is finally letting everyone order the menus best kept secret.
PS7's Patio Picnic
Lunch: $19 per person [2 sides]
Dinner: $27 per person [3 sides]
– Prices exclude tax and gratuity –
Gets your choice of:
Hot or Cold Buttermilk Fried Chicken
Cornbread or Biscuit
Cookie or Brownie
Unlimited Sun Drenched Iced Tea
Sides: Potato Salad, Pasta Salad, Coleslaw, Deviled Eggs, Pinwheel Sandwiches
I usually say Yuck to summer school, but this year, I may vie for a standing seat in class. Restaurant Ris is the reason behind the madness. This summer the restaurant is hosting a series of classroom style sessions featuring wine & beer tastings alongside market fresh dishes. Chef/Owner Ris Lacoste covers all the basics in the following:
Saturday, July 28: A crash course in pairing beer with food
Beer connoisseur Thor Cheston of the Right Proper Brew Pub will teach guests about pairing beer with summertime favorites.
Saturday, August 4: An expert's take on fortified wines
Country Vintner's Jason Whiteside will teach guests about fortified wines, from sherry to port and madeira, each paired with a small plate to show the wine's versatility.
Saturday, August 25: Pairing local foods with local wines
RIS' Wine Director Leah Cheston keeps things local with a class on pairing local foods with local wines.
Where: RIS
2275 L Street NW
Washington, DC 20037
When: 1pm-3pm
$$: $55 per session, inclusive of tax and gratuity
RSVP: Natalie Christenson @ nataliec@risDC.com
Local food is what makes me want to stroll the Farmer's Markets around DC every weekend during the summer months. Next week (July 14-21), local food will dominate the DC dining scene with Eat Local First. A week chok full of events – for both consumers and the restaurant industry – focusing on local farms, products and the restaurants, organizations and people that are making locally grown food more accessible to the DC community. Eat Local First Week also includes events such as the signature Farm-to-Street party, a celebration of DC's Femivores, an industry panel, and the launch of a culinary incubation program. In addition to the above lineup, Think Local First is giving away a $1,000 scholarship to one Femivore, or local woman leading the food movement through her own work. More info on next weeks events found here.
This summer Food, Wine & Co. is thinking: exclusive tastings, an exciting spread of beer-centric foods and the opportunity to chat up-close and personally with beer gurus in the intimate surroundings of a two-story wine library. The Bethesda restaurant has launched "Beer Talks", literally a series of monthly Beer Talks. The restaurant is kicking things off with the award-winning Fort Collins, Colorado brewery, Oskar Blues, on Tuesday, July 24th from 8-10 pm with a unique opportunity to meet with Oskar Blues Brewery's, Matt Zrebeic and taste a spread of exclusive beers. Tickets for Food, Wine & Co.'s Beer Dinner can be purchased in advanced by calling the restaurant at (301) 652-8008. Tickets are $50 and include food and beer pairings and an Oskar Blues glass to take home.
Now if you really love beer, then July 21, is going to give you yet another reason to indulge. Palisades Belgian bistro, Et Voila, celebrates Belgian Independence Day, Saturday, July 21st (5 pm- 10 pm) with a Belgian Brew-a-Bration featuring special Belgian Beer Flights and boozy, frosty Beer Floats. Celebrating nearly 200 years of independence, Et Voila will serve up specials of their Beer Floats and Belgian Beer Flights all night long. For $10, novice and experienced beer drinkers can taste and learn about a variety of unique Belgian brews such as the Steenbrugge Tripel and the Duvel, a Belgian Strong Pale Ale. To keep cool in the DC heat, Et Voila will also serve up frosty Belgian Beer Floats like their housemade Hoegaarden beer ice cream + Belgian Kasteel Rouge float.
Where: Et Voila, 5120 MacArthur Blvd NW
More Dibs Here: www.etvoiladc.com or call (202) 237-2300
Category: Announcements, Food.Fun.Stuff., Washington D.C.
Johnna French is a Harlem NY native with deep roots in Panama, Washington, DC and North Carolina. All four places have heavily influenced her life and the foods she loves today. After graduating Howard University School of Law and beginning her life as a young professional in the city she was led to start Johnna Knows Good Food in November 2007 to keep family, friends and colleagues updated on where to go and what to eat while dining in the nation's capitol. French, who still practices law, leads a team of three writers to cover the ever expanding Washington, DC food scene. French has been featured in print and television, appearing in Washingtonian Magazine and is a regular contributor to various local TV affiliates including WUSA 9, FOX 5 DC and WJLA (ABC Affiliate) News Channel 8. During the 2016-2017 football season, Johnna aired on Comcast Sports Mid-Atlantic (CSN) show, Redskins Life, as the weekly tailgate host. Johnna is currently a regular contributor to the FOX Baltimore Weekend morning show.
---