There is food and then there is Eataly.  After receiving buzz that the New York flagship store, Eataly, would be making its way down to the District I knew it was time for a visit. Now let me tell you little about me. As soon as I tell someone I'm originally from New York, the first question that comes to mind is "Where to go eat?".  Ok, New York is home and when I'm home, believe it or not, in the big city of bright lights, my Mum cooks and I eat at home.  Venturing out on the hottest day of the summer downtown on the 3 train, crossing over to grab the shuttle to jump on the 6 train and then walking over 2 blocks to get to Eataly would never in a million years interest me.  That interest was sparked, however, by the constant chatter I kept hearing about this place.  I mean venturing outside of my Harlem neighborhood would not hurt to get first dibs on this massive food endeavor coming to the District.
Deep Breath. Eataly is like a carnival for the food connoisseur.  I felt like a kid who had just arrived to the Wizarding World of Harry Potter after only reading about this kind of thing in books.
There were whole families of mushrooms,
And beans,
And Cheeses,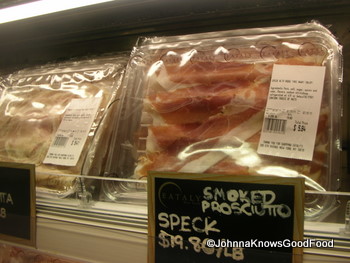 And prosciutto's of all sorts,
And Fish,
And Lobster,
And Clams,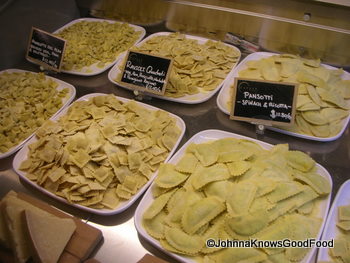 And Fresh Pasta,
And More Fresh Pasta,
And beers from everywhere and there,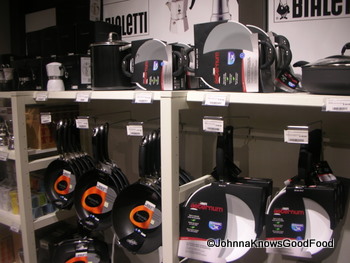 And Bialetti!,
And Wines and Champagne,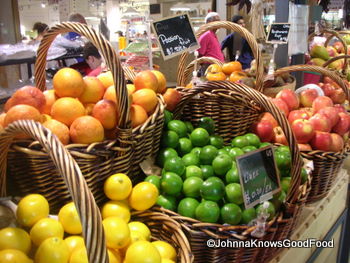 And Fruit,
And of course, cannolis,
And sweets,
And gelato.
Now to some of you this may sound like a typical grocery store or day at the farmers market but of all the things that I listed above, let's just say that is about 1% of what I witnessed in Eataly.  I really wish I could squeeze the whole store into this one post but that's the part that makes it exciting because we are getting our very own in the District.  To sum up Eataly: a plethora of fresh ingredients and everything you need to use those ingredients.  It's almost as if Italy is at your front door with most of the ingredients derived from the homeland.  I think I could have spent two full days there and only fully absorb all of the unique products on the pasta and seafood sections of the store.
With all this food swirling around, Eataly sets itself apart from other gourmet markets in that it has multiple places to dine.  You can find yourself standing in the center of the cheese section with a wooden tray filled with smoked prosciutto and fresh buffalo mozzarella alongside a full body glass of red.
You could, also, find yourself seated at the bar at La Pizza & Pasta starting off with the Misticanza salad and glass of wine.  Either way, you would not go wrong.  The food is fresh and amazing.
On my particular visit, I took the liberty of trying out the classic mozzarella which is made fresh daily. Light and pure.
I followed up with the special of the day, fresh ravioli filled with spinach and ricotta tossed with a light butter sauce and fresh green peas.
Pleased and full I decided to do a little shopping and came across the faces behind the madness that is Eataly.  Chef Mario Batali and Chef Lidia Bastianich are the two major names behind the Eataly brand and are notable food personalities from the Food Network and PBS, respectively.  Chef Bastianich basically taught me how to make homemade gnocchi through her television show Lidia's Italy.  This lady can cook.  There was absolutely no way I was living Eataly without either hers or Chef Batali's sauce so I opted from Lidia's tomato basil sauce and spaghetti.
Pleased with my purchases and belly full, the ride back uptown felt more like a 15 minute breeze than my trip downtown to Eataly.  Many establishments have made there way to the Nation's Capitol from the concrete jungle of Manhattan but this one has me more anxious than ever before…
Category: Announcements, Food.Fun.Stuff., restaurant reviews, Travels, Washington D.C.
Johnna French is a Harlem NY native with deep roots in Panama, Washington, DC and North Carolina. All four places have heavily influenced her life and the foods she loves today. After graduating Howard University School of Law and beginning her life as a young professional in the city she was led to start Johnna Knows Good Food in November 2007 to keep family, friends and colleagues updated on where to go and what to eat while dining in the nation's capitol. French, who still practices law, leads a team of three writers to cover the ever expanding Washington, DC food scene. French has been featured in print and television, appearing in Washingtonian Magazine and is a regular contributor to various local TV affiliates including WUSA 9, FOX 5 DC and WJLA (ABC Affiliate) News Channel 8. During the 2016-2017 football season, Johnna aired on Comcast Sports Mid-Atlantic (CSN) show, Redskins Life, as the weekly tailgate host. Johnna is currently a regular contributor to the FOX Baltimore Weekend morning show.
---