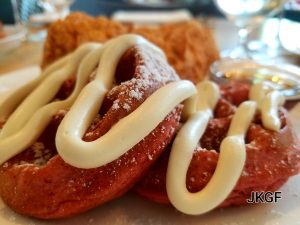 I really do not need an excuse to visit Kingbird at the Watergate Hotel.  The food is always good.  Recently, however, I used the excuse to try their special menu "Best Breakfast in America" to revisit one of my faves in this part of town.  The special menu is the restaurants Pop-Up of sorts that highlights signature dishes from across the country.  The restaurant brought in various chefs from Baltimore to Austin to show-off their regions best breakfast attributes.
Connie's Chicken & Waffles left me needing an immediate trip to Baltimore with their crispy fried Chicken Tenders and Red Velvet Waffles with Maple Syrup.  The waffles were not too sweet, which matched perfectly with the syrup allowing the chicken to balance up against the two.  Trying them all at once reminded me why this is a region favorite.  The Blue Collar from Miami, Florida reminded me why I love a good South Florida breakfast.  Simple and classic, the restaurant showcased the Egg Sandwich topped with two eggs over easy, potato latke, white cheddar, bacon and garlic aioli on a sweet Portuguese muffin.  These. Portuguese. Muffins.  Equal.  EVERYTHING.  Moist, sweet and fresh are the three words to describe what was going on in that dough.  If you get to Miami anytime soon, make a trip to this spot for this dish alone.  I can only imagine what the bread taste like on their turf…
If you have not found a reason to venture over to the upgraded Watergate digs (or even if you have become a regular on the premises…), the "Best Breakfast in America" menu is worth a try.  Exploring the regions of Baltimore, Austin, Miami and Chicago, the menu takes a stab at something this area is known for:  a melting pot.  What are you having for breakfast this weekend??
2650 Virginia Ave NW, Washington, DC 20037
(202) 838 – 4471
Category: Announcements, breakfast, Food.Fun.Stuff., Johnna's Pick of the Week, restaurant reviews, Reviews, Washington D.C.
Johnna French is a Harlem NY native with deep roots in Panama, Washington, DC and North Carolina. All four places have heavily influenced her life and the foods she loves today. After graduating Howard University School of Law and beginning her life as a young professional in the city she was led to start Johnna Knows Good Food in November 2007 to keep family, friends and colleagues updated on where to go and what to eat while dining in the nation's capitol. French, who still practices law, leads a team of three writers to cover the ever expanding Washington, DC food scene. French has been featured in print and television, appearing in Washingtonian Magazine and is a regular contributor to various local TV affiliates including WUSA 9, FOX 5 DC and WJLA (ABC Affiliate) News Channel 8. During the 2016-2017 football season, Johnna aired on Comcast Sports Mid-Atlantic (CSN) show, Redskins Life, as the weekly tailgate host. Johnna is currently a regular contributor to the FOX Baltimore Weekend morning show.
---