The summer is obviously my favorite season of the year, I am the ultimate summer baby born in August.  As the temperatures rise so does my number of lazy days in the kitchen.  As much as I crave a good homemade meal, I want relaxation more, which is why I create the easiest recipes during the summer.  Inspired by BBQ season, I try to include recipes in my repertoire that are easy to prep, finger-food friendly and full of flavor.
This summer, I am starting with hoagies, pulled pork hoagies to be exact.  Hoagies are one of my favorite finger-foods because the possibilities are endless on what you can do with them.  Serve them cold with your favorite deli meats or serve hot with your favorite meatballs.  For the recipe below, I decided to go for the hot option and cut corners on prep but not flavor.  Using Curly's RoadTrip Eats West Coast Style Pulled Pork, I added on some homemade coleslaw and voila!  Summer lunch made easy without me having to open up the grill.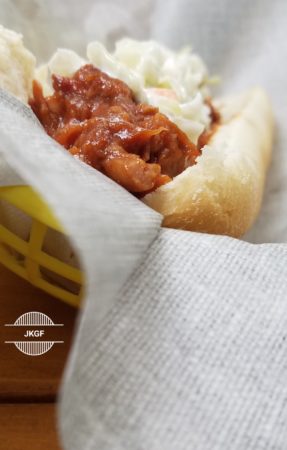 Johnna's Pulled Pork Hoagies
1 pack of hoagie bread (*Optional:  Toasted with butter)
1 pack of Curly's RoadTrip Eats West Coast Style Pulled Pork (*can be found in the refrigerated meat case in your local grocery store)
Cole Slaw Recipe
1 package of shredded coleslaw mix (*can be found in the produce section of your local grocer)
1 tbsp. relish
½ cup of mayonnaise
2 tbsp. vinegar
1 tbsp. sugar
Salt and pepper (to taste)
Directions:  Combine coleslaw ingredients in a bowl and fold in together until mixed well.  Heat Curly's RoadTrip Eats West Coast Style Pulled Pork according to package instructions.  Spoon 2-4 tbsp. of Pulled pork into hoagies followed by 2-3 tbsp. of coleslaw.  Serve.
*Johnna's Tip:  This is probably the easiest recipe I have ever shared on JKGF.  Why?  Because I want more time outside basking in all that is summer but not at the expense of my taste buds.  I opt for products like Curly's that cut my cooking time in half while still preserving quality and flavor.  Happy summer!
*Johnna's Tip, Tip:  Want to make this summer extra awesome?!  Enter for a chance to win $10,000 at Curlys.com/sweeps.  From now until June 10, 2018, you have the chance to win $10,000 (check) and use the funds to travel to the destination of your choice.
Category: finger-foods, main dish, Product Review, Recipes, Reviews
Johnna French is a Harlem NY native with deep roots in Panama, Washington, DC and North Carolina. All four places have heavily influenced her life and the foods she loves today. After graduating Howard University School of Law and beginning her life as a young professional in the city she was led to start Johnna Knows Good Food in November 2007 to keep family, friends and colleagues updated on where to go and what to eat while dining in the nation's capitol. French, who still practices law, leads a team of three writers to cover the ever expanding Washington, DC food scene. French has been featured in print and television, appearing in Washingtonian Magazine and is a regular contributor to various local TV affiliates including WUSA 9, FOX 5 DC and WJLA (ABC Affiliate) News Channel 8. During the 2016-2017 football season, Johnna aired on Comcast Sports Mid-Atlantic (CSN) show, Redskins Life, as the weekly tailgate host. Johnna is currently a regular contributor to the FOX Baltimore Weekend morning show.
---