This warmer weather has me in the mood for a good par-tay, get-together or something fancy schmancy.  Basically, warmer weather makes me want to get folks together to congregate and enjoy good conversation over good food and drinks.  Now that there is everything on the market to have a "cool" shindig from decorations to top notch cakes and cupcakes, the invitations attached should not be any different.  This is one of the main reasons that I love Paperless Post.  They are the premier company for sending out evites online.
Digging through their catalog in the past couple of days has me inspired and ready to host some type of gathering in the coming weeks.  Are you thinking what I am thinking??  If so, check out my ideas below.  Here are my top five "themed" gathering ideas for the summer: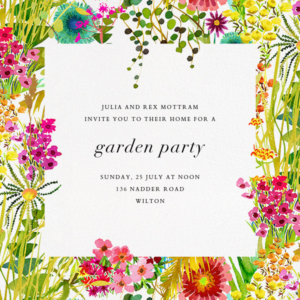 Garden Par-tay. Garden parties are the new way to go in terms of gatherings this summer.  Everyone loves a picturesque set of greenery alongside their favorite seersucker.  Keep some Claritin and Zyrtec on deck beside the fresh squeezed lemonade, just in case a guest brings their allergies with them.
Dance House Par-tay. Dim the lights, turn on the 90's music mix and pull out the gin and juice (*think circa 1993, Dr. Dre and Snoop Dogg).  No need for a DJ in the day and age of Spotify and/or Pandora, just pick your playlist.
Ice Cream Social. It is going to be hot.    Point blank.  The summer on any coast will be hot in the U.S.  What better time to pull out your favorite ice cream recipe and underused ice cream maker to show-off for your friends and family??  Not feeling the creation part, pick up a few jars of Talenti and some fun toppings and chill out!
Champagne Campaign. A phrase coined by my girl Tara, this is one of the best par-tay ideas of any season and especially during the summer.  The idea is simple:  have a few folks over and everyone brings a bottle (or few) of bubbly and you champagne campaign it up for hours on end.  Host provides the nibbles and cozy digs for imbibing.
Old Fashioned BBQ. You cannot escape the summer without a good bbq.  The wonderful thing about a BBQ is it is a no frills event.  Heck, the hardest part might be putting together the invite and invite list.  Grab some buns and your favorite grill items and let the open flames do the work.
Category: Food.Fun.Stuff., Product Review, Reviews, Style Section
Johnna French is a Harlem NY native with deep roots in Panama, Washington, DC and North Carolina. All four places have heavily influenced her life and the foods she loves today. After graduating Howard University School of Law and beginning her life as a young professional in the city she was led to start Johnna Knows Good Food in November 2007 to keep family, friends and colleagues updated on where to go and what to eat while dining in the nation's capitol. French, who still practices law, leads a team of three writers to cover the ever expanding Washington, DC food scene. French has been featured in print and television, appearing in Washingtonian Magazine and is a regular contributor to various local TV affiliates including WUSA 9, FOX 5 DC and WJLA (ABC Affiliate) News Channel 8. During the 2016-2017 football season, Johnna aired on Comcast Sports Mid-Atlantic (CSN) show, Redskins Life, as the weekly tailgate host. Johnna is currently a regular contributor to the FOX Baltimore Weekend morning show.
---