There is brunch and then there is brunch at the St. Regis.  Walking into the St. Regis feels regal from the front door until you reach your seat.  The staff is so attentive and pristine in service, I always feel like I should walk in with a long coronation gown instead of my denim and Forever 21 leather jacket.  The funny thing is, however, in a place that gleans these emotions it is one of the least pretentious places in Washington.  Hard to believe?  Well, let me take you on my journey to the St. Regis Sunday Jazz Brunch.
I will not spend a lot of time telling you what I had that day because after inquiring with one of the waiters, he informed me that the menu changes weekly.  This is bittersweet for me as an avid food connoisseur because I am going to want to try everything the next person had on their visit especially if I missed out on my visit.  I digress.  The food was quirky, flavorful and approachable.  I think those are the key components of a good buffet brunch where the word "buffet" often evokes all kinds of negative emotions.  In addition, to the buffet, patrons can order an entrée from the menu to eat after they finish perusing the buffet.  You will not leave this brunch hungry.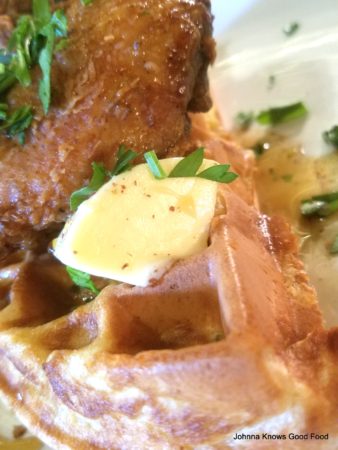 There were things on the buffet that I could have done without but I appreciated their presence for the picky eater (of which I have plenty in my life…) i.e. the Caesar salad, some of the charcuterie selections.  Revisiting the staff, who provided impeccable service, I never had an empty glass.  On a Sunday before the work week begins, the last thing I want to think about is flagging down someone at a restaurant for another mimosa or Bloody Mary.  Brunch at the St. Regis felt like I was in a dining scene at Hogwarts where the glasses are instantly filled without me having to say a word.  I loved it.
The price of brunch is $59, which includes the buffet and an entrée of your choice (they have about four selections).  For an additional $20, you get bottomless mimosas with fresh fruit juice selections and/or make your own Bloody Marys.  The price may seem hefty for some but it is absolutely worth it.  My reservation was for 11:30 a.m. and I did not walk about until after 2:30 p.m.  I could have stayed longer but they would have had to roll me out.  It was a nice, slow brunch that invited future thoughts of enjoying this with friends for a celebration.  The ambiance, food and flowing drinks puts this brunch at the top of my go-to Sunday brunch list.
Did I mention they have a live jazz ensemble as well?  And the music does not overpower your brunch conversation?  The St. Regis continues to prove it is superb in all areas.  Afternoon tea, drinks, brunch, anyone??
Category: breakfast, Brunch, restaurant reviews, Reviews, Washington D.C.
Johnna French is a Harlem NY native with deep roots in Panama, Washington, DC and North Carolina. All four places have heavily influenced her life and the foods she loves today. After graduating Howard University School of Law and beginning her life as a young professional in the city she was led to start Johnna Knows Good Food in November 2007 to keep family, friends and colleagues updated on where to go and what to eat while dining in the nation's capitol. French, who still practices law, leads a team of three writers to cover the ever expanding Washington, DC food scene. French has been featured in print and television, appearing in Washingtonian Magazine and is a regular contributor to various local TV affiliates including WUSA 9, FOX 5 DC and WJLA (ABC Affiliate) News Channel 8. During the 2016-2017 football season, Johnna aired on Comcast Sports Mid-Atlantic (CSN) show, Redskins Life, as the weekly tailgate host. Johnna is currently a regular contributor to the FOX Baltimore Weekend morning show.
---