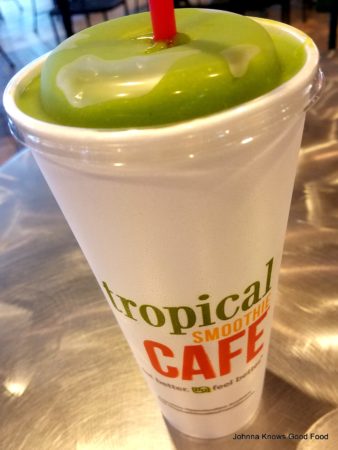 I am not into smoothies.  There.  I put it out there.  This the main reason why I was reluctant to try out Tropical Smoothie Café.  With a little arm twisting, curiosity and a look at the scale, I decided it was time to change up my tune.  Glad I did.  Tropical Smoothie Café is pretty darn good for the smoothie lover.  Not too sweet but not too bland, you leave Tropical Smoothie feeling like you are full but not overloaded with the bad stuff.  The bad stuff being hidden sugars and preservatives.
The Detox Island Green was the drink of choice.  It is characterized as a Superfood Smoothie and it definitely has all the characteristics to claim this title:  Spinach, kale, mango, pineapple, banana and fresh ginger.  SUPER.  FOOD.  After a week of drinking too many mojitos in Cuba and snacking on key lime pie in Key West, spinach and kale needed to enter my digestive system.
Am I a smoothie lover now?  I could get with this, especially since Tropical Smoothie Café sold me on the fact that they not only do smoothies but food too.  Now we are talking.
Category: health concious, restaurant reviews, Reviews, Washington D.C.
Johnna French is a Harlem NY native with deep roots in Panama, Washington, DC and North Carolina. All four places have heavily influenced her life and the foods she loves today. After graduating Howard University School of Law and beginning her life as a young professional in the city she was led to start Johnna Knows Good Food in November 2007 to keep family, friends and colleagues updated on where to go and what to eat while dining in the nation's capitol. French, who still practices law, leads a team of three writers to cover the ever expanding Washington, DC food scene. French has been featured in print and television, appearing in Washingtonian Magazine and is a regular contributor to various local TV affiliates including WUSA 9, FOX 5 DC and WJLA (ABC Affiliate) News Channel 8. During the 2016-2017 football season, Johnna aired on Comcast Sports Mid-Atlantic (CSN) show, Redskins Life, as the weekly tailgate host. Johnna is currently a regular contributor to the FOX Baltimore Weekend morning show.
---