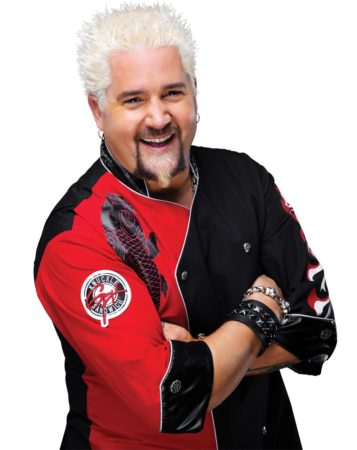 The Metropolitan Cooking and Entertaining Show returns this December 9-10 with Food Network's Guy Fieri headlining alongside local celebrity chef, José Andrés. The two-day culinary showcase will again take over DC's Walter E. Washington Convention Center.  Show-goers may shop from aisles of specialty food products, including holiday gift options,  experience live demos from James Beard honored chefs, participate in interactive workshops and attend book signings from authors from throughout the country.
Highlights that caught our eye?
At the James Beard Foundation Cooking Stage will be an all-star lineup, including Fieri, Andrés, and RAMMY award-winners and local DC area chefs including Erik Bruner-Yang, Maketto; Vikram Sunderam, Rasika and Bindaas and Amy Brandwein, Centrolina, along with other regional Beard honored winners and nominees. In addition, chefs from L'Academie de Cuisine will lead hands on cooking classes.
Several interactive events within the event include a two-day Beer, Wine & Spirits Garden, with craft beer, specialty wines and spirits. 
The BBQ Bash on Saturday, December 9 with Chef Marjorie Meek-Bradley, of DC's Smoked & Stacked and Top Chef, hosts this event which will feature the area's top barbecue restaurants and pitmasters offering food samples and giving grilling tips and trends.
On Sunday, December 10, more than 50 restaurants will serve up signature sweet and savory bites at the 5th annual Grand Tasting Pavilion benefiting SOME (So Others Might Eat).
The Natural Products and Healthy Living Pavilion will feature organic and natural products.  (JKGF is trying to get our healthy self-care on!)
Category: Announcements, Washington D.C.
Johnna French is a Harlem NY native with deep roots in Panama, Washington, DC and North Carolina. All four places have heavily influenced her life and the foods she loves today. After graduating Howard University School of Law and beginning her life as a young professional in the city she was led to start Johnna Knows Good Food in November 2007 to keep family, friends and colleagues updated on where to go and what to eat while dining in the nation's capitol. French, who still practices law, leads a team of three writers to cover the ever expanding Washington, DC food scene. French has been featured in print and television, appearing in Washingtonian Magazine and is a regular contributor to various local TV affiliates including WUSA 9, FOX 5 DC and WJLA (ABC Affiliate) News Channel 8. During the 2016-2017 football season, Johnna aired on Comcast Sports Mid-Atlantic (CSN) show, Redskins Life, as the weekly tailgate host. Johnna is currently a regular contributor to the FOX Baltimore Weekend morning show.
---