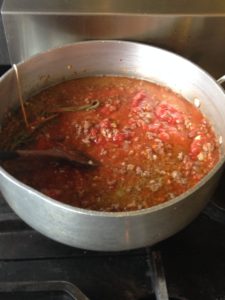 How do you say delicious food in Italian? Cibo Delizioso! That is what you will be saying after visiting Nonna's Kitchen.  Nonna's Kitchen is conveniently located on U St. NW.  The restaurant offers a cozy environment where all patrons have a clear view of the open kitchen. This allows you to truly appreciate the aroma of fresh Italian cooking and watch the chef masters as they prepare all ingredients from scratch.  It has also been voted one of the Best 10 Restaurants on the U Street Corridor by Yelp.
My number one recommendation for this restaurant:  the Chicken Marsala. The mushroom sauce was so creamy and the mushrooms tasted so fresh.  This was all accompanied by a tender chicken breast.  My other recommendation is the Bolognese.  I liked this bolognese because it incorporates fresh veggies without overpowering the dish. The bolognese sauce was served over fresh house-made pasta.
This restaurant is perfect for date nights and also offers cooking classes throughout the month so you can perfect the dishes in your own kitchen!
Category: restaurant reviews, Reviews, Washington D.C.
---