Something magical happens when talented chefs and mixologists come together to support an awesome cause. Teaming up with the World Central Kitchen, José Andrés continues to seek solutions on ending hunger and poverty around the globe as well as right here in the District for Dine-N-Dash's  fourth annual event.
Literally dash among 30 restaurants throughout downtown D.C. with other food and cocktail enthusiasts while sampling the cuisine of eateries such as Del Campo, Mango Tree, and Zaytinya. With each restaurant serving between five to eight dishes and four drinks, you shouldn't be hungry by the end of this fun-filled night.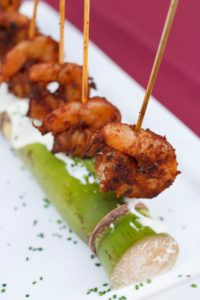 If walking along the 14 Street corridor and throughout Penn Quarter for four hours doesn't sound appeasing, opt for a VIP ticket which has some pretty amazing perks. Not only will a pedicab take you from one location to another, you get to attend a pre-reception at Le Diplomate as well as an after party with guest appearances by the legendary Eric Rupert, talented Erik Bruner-Yang, and José Andrés himself. Interested? Check out the details below:
When: June 15th, 2016
General Admission: 6-10PM
VIP: 5-11PM
Where: Penn Quarter & 14th Street Corridor
Participating Restaurants: Arepa Zone, Barcelona, Birch and Barley, BOE, China Chilcano, Cork (VIP), Cuba Libre, DBGB (VIP), Del Campo, Doi Moi, Dolci Gelati, Estadio, Ghibellina, Le Diplomate (VIP), Jaleo, Mango Tree, Masa 14, Oyamel, Pearl Dive, Pepe, Policy, Proof (VIP), Rocklands BBQ, SEI, Sotto (VIP), Swizzler, Zaytinya, and Zengo.
Category: Announcements, Washington D.C.
An ambitious freelance photographer who just happens to be a football fanatic, an avid baker, concert junkie, and wanderlust. "I can't stand people who do not take food seriously." ~Oscar Wilde
---