Tapas are fun…when I'm not hungry.  I usually opt for the small plates when my appetite for cocktails outweighs my appetite for food.  On this particular evening where cocktails were on the brain, I set my sights on Estadio.  One of the newer members to the 14th street corridor, Estadio has rustic Spanish appeal with its vintage décor and open kitchen.  I guess showing up without a reservation worked in my favor because when I arrived the hostess asked if I wanted to sit at the bar or at the chef's table.  Umm, this was a no brainer…the chef's table.
From the time I sat down, my mind/eyes/mouth went on a riveting journey through Spain.  Peering over the glass window between the "chef's table" and the kitchen, I watched the chef's concoct the courses of my dinner.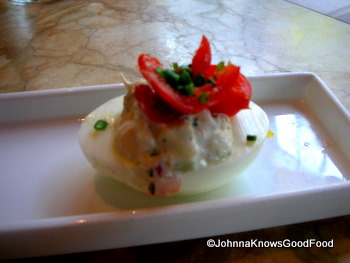 Deviled eggs,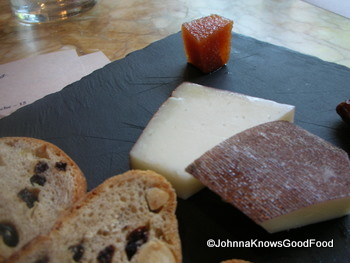 Murcia al Vino (*semi-soft goat cheese from Spain),
Baby Arugula paired with sliced hard boiled eggs and boquorones (*marinated white anchovies),
Tortilla Espanola (*a basic scramble of eggs and potatoes cooked frittata style) topped with an alioli sauce and sweet hot peppers,
An open face sandwich of Jamon Serrano and manchego cheese,
Sauteed shrimp dressed in garlic, parsley and lemon,
and
Grilled Rhode Island Squid ("a la Plancha").
This must be the reason small plates are so appealing, you can try everything on the menu! My eyes were as a wide as a kid at FAO Swhartz for the first time and I ran up a tab like my parents were carrying the Centurion Card (*Translation: The Black Card).  All worth it, needless to say, I could not leave the restaurant without dessert.  I figured with no disappointment this far in the game, I should keep rolling the dice. Luck be a lady, the dessert matched its savory counterparts with exquisite cream combinations and moisture.  The manchego cheesecake with an almond granola base maintained the perfect balance of sugar and fruit in the tart shaped dessert.
The only disappointing part of the Estadio experience was the lackluster attitude of the waitor but with the views I had of the kitchen and the tantalizing flavors of Spain, I was able to completely ignore him.  On my next trip, I would shy away from the deviled eggs and pay closer attention to the extensive Spanish wine list.  The key phrase here, however, is "my next trip"…I will definitely return.
Category: restaurant reviews, Washington D.C.
Johnna French is a Harlem NY native with deep roots in Panama, Washington, DC and North Carolina. All four places have heavily influenced her life and the foods she loves today. After graduating Howard University School of Law and beginning her life as a young professional in the city she was led to start Johnna Knows Good Food in November 2007 to keep family, friends and colleagues updated on where to go and what to eat while dining in the nation's capitol. French, who still practices law, leads a team of three writers to cover the ever expanding Washington, DC food scene. French has been featured in print and television, appearing in Washingtonian Magazine and is a regular contributor to various local TV affiliates including WUSA 9, FOX 5 DC and WJLA (ABC Affiliate) News Channel 8. During the 2016-2017 football season, Johnna aired on Comcast Sports Mid-Atlantic (CSN) show, Redskins Life, as the weekly tailgate host. Johnna is currently a regular contributor to the FOX Baltimore Weekend morning show.
---