I headed to New Orleans for the first time this summer and was really excited about the trip since I had heard so many great things about the city.  Unfortunately, but fortunately, I had no idea where to start in trip planning.  Since I LOVE food, I wanted to make sure I hit the right dining spots.  My first step was to put a general status on my Facebook page asking for restaurant and entertainment suggestions.  Though that went well, I received so many recommendations, I had no idea how to narrow the list down.  I knew that either I had to choose just a few from the growing list or enlist some help.  After a quick search, I found out about The New Orleans Convention and Visitors Bureau and they saved the day!  I figured if you are going to a city, you might as well reach out to the experts.  Who better to help then those living there?  Take a look at a few of my adventures on my trip.  I'll be back sooner than later!
The Gumbo Shop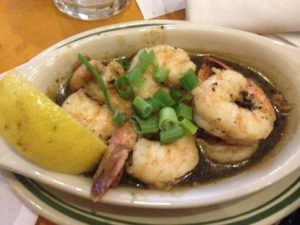 The Gumbo Shop offers authentic New Orleans cuisine right in the French Quarter.  After enjoying a meal in the restaurant or in the beautiful courtyard, you are only steps away from all of the action.  Whether you enjoy watching live street performers after a big meal or hitting Bourbon Street, this restaurant offers the perfect location.  Besides the food being exceptional, customer services is top-notch.  From the minute you walk in the door, you feel like family and the staff goes above and beyond to make sure each guest is comfortable and satisfied.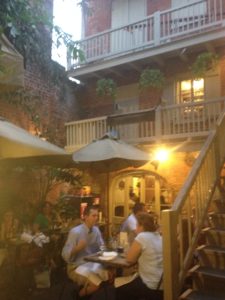 The Court of Two Sisters
Before leaving the city, I had brunch at The Court of Two Sisters.  I enjoyed the change in menu from the average brunch and was able to enjoy delicacies such as Sweet Potato Salad and Turtle Soup.  All of the food was fresh and DELICIOUS!  I chose to enjoy this meal in the courtyard while enjoying the sounds of a live band.  I walked away recommending the location to everyone I met.  It is also located in the French Quarter, so it was convenient for an after dinner night stroll.
It has also been voted Best Outdoor Dining Spot by AAA Southern Traveler's Magazine 2013 Best of the South.
http://www.courtoftwosisters.com/

If you are looking for help in planning your trip to New Orleans, reach out to the New Orleans Convention and Visitors Bureau.  Speaking from experience, they can point you in the right direction.
New Orleans Convention and Visitors Bureau
2020 St. Charles Ave.
New Orleans, LA 70130
Category: restaurant reviews, Reviews, Travels
---