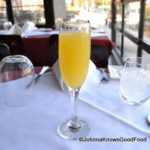 Haven't booked your flight to Cuba yet?  Get your palate ready with this brunch.  In light of the raising of the American flag at the Embassy in Havana, Bastille (606 N Fayette St., Alexandria) has planned a special one-time brunch featuring a contemporary takes on classic Cuban favorites.  The "Wake up in Cuba" brunch is on Sunday, September 6 from 11:30am – 2:30pm.  The restaurant's regular a la carte brunch will also be offered in addition to these specials.  More deets here:  www.bastillerestaurant.com. 
Aperitivo
Yucca Fries
With cabbage Slaw, oregano Infused Tomato Coulis
10
Platos Fuertes
Sandwich Cubano con Huevos Fritos
Provolone Cheese, Prosciutto, Salami, Yellow Mustard, 2 Fried Eggs
Served with Yucca Fries and Cabbage Slaw
14
Bistec con Cebollas
Marinated Steak with Onion and Tomatoes, Fried Plantains,
Yucca Fries, Sunnyside fried Egg
17
Postre 
Cuban Flan
Classic Cuban flan sweetened with Condensed Milk
Served with whipped cream and fresh fruit
6
Bebidas
Café Con Leche
Strong Coffee with Sugar Infused Creamy Milk
6
Cuba Libre
Dark Rum, Lime and Cola
8
Johnna French is a Harlem NY native with deep roots in Panama, Washington, DC and North Carolina. All four places have heavily influenced her life and the foods she loves today. After graduating Howard University School of Law and beginning her life as a young professional in the city she was led to start Johnna Knows Good Food in November 2007 to keep family, friends and colleagues updated on where to go and what to eat while dining in the nation's capitol. French, who still practices law, leads a team of three writers to cover the ever expanding Washington, DC food scene. French has been featured in print and television, appearing in Washingtonian Magazine and is a regular contributor to various local TV affiliates including WUSA 9, FOX 5 DC and WJLA (ABC Affiliate) News Channel 8. During the 2016-2017 football season, Johnna aired on Comcast Sports Mid-Atlantic (CSN) show, Redskins Life, as the weekly tailgate host. Johnna is currently a regular contributor to the FOX Baltimore Weekend morning show.
---