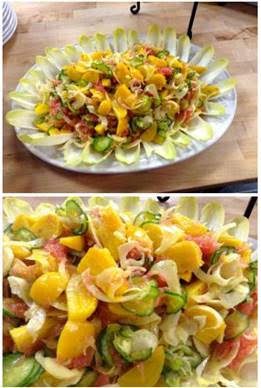 The summertime means it is entirely too hot to eat heavy foods, which is why this salad inspired us.  Light and easy, add this one onto your summer cookout menu.
Yield: 6 servings
3 medium golden beets
2 medium bulbs fennel
2 Persian or 1 English cucumber
2 medium grapefruits
1 head Belgian endive
Dressing:
1 Tbs. finely minced shallot
1/2 tsp. dry mustard powder
1/4 tsp. anise seed, lightly crushed
1 Tbs. Sherry vinegar
1 Tbs. lemon juice
Juice from cutting the grapefruits
1/4 cup or more to taste olive oil
Salt & freshly ground pepper
Trim the beets and steam them over simmering water until tender. Let cool then peel (the skins should rub off). Cut into slices or small wedges. Wash fennel bulb and trim off stalk and any brown spots. Slice the fennel into very thin slivers, preferably with a mandoline. Use the same mandoline to slice the cucumber very thin, then salt the cucumber and let drain for 10 minutes. Squeeze it dry and combine with the fennel. Remove and reserve a teaspoon of grapefruit zest, then peel and remove all the white pith from the grapefruit. Slice into "supremes" by cutting between the membranes, and set aside, catching any juice (squeeze the membrane too!) to add to the dressing. Toast the anise seed in a dry frying pan and grind in the mortar and pestle.
Make dressing by combining zest, minced shallot, dry mustard, toasted anise seed, vinegar and lemon juice, grapefruit juice you've accumulated, plus salt and freshly ground pepper to taste.  Add oil and stir. Add two tablespoons of the dressing to the beets, and let them marinate until you put the salad together.
Toss together the fennel and cucumber, beet wedges and grapefruit sections. Dress with as much of the reserved dressing as you need, to moisten it. Turn into a nice bowl, and decorate with the endive leaves.
*Thanks to Paulding & Company, a full catering kitchen based in San Francisco, founded by mother-daughter duo Tracy and Terry Paulding, for this week's recipe.
Category: Recipes, side dish, vegetarian
Johnna French is a Harlem NY native with deep roots in Panama, Washington, DC and North Carolina. All four places have heavily influenced her life and the foods she loves today. After graduating Howard University School of Law and beginning her life as a young professional in the city she was led to start Johnna Knows Good Food in November 2007 to keep family, friends and colleagues updated on where to go and what to eat while dining in the nation's capitol. French, who still practices law, leads a team of three writers to cover the ever expanding Washington, DC food scene. French has been featured in print and television, appearing in Washingtonian Magazine and is a regular contributor to various local TV affiliates including WUSA 9, FOX 5 DC and WJLA (ABC Affiliate) News Channel 8. During the 2016-2017 football season, Johnna aired on Comcast Sports Mid-Atlantic (CSN) show, Redskins Life, as the weekly tailgate host. Johnna is currently a regular contributor to the FOX Baltimore Weekend morning show.
---