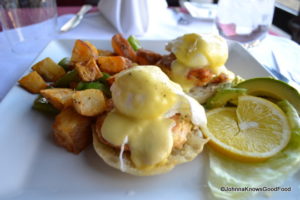 Sundays become electric with a new live music series at Equinox Restaurant.  The buffet-style vegan brunch features a Scramble Station with made-to-order tofu scrambles featuring local ingredients delivered from area farmers, as well as stuffed French toast, Truffled Lentil "Cassoulet," and other select seasonal dishes and pastries. During truffle season, guests may opt to add shaved truffles to their dishes. The vegan brunch is $30 for adults and $15 for children under 12. The truffle supplement is $20.   Examples of what to expect?  This month, for instance, guests are treated to classical music from classical guitarist Simone Baron. Beats & Brunch is the first in a series of art-inspired events at Equinox Restaurant.
New kid on the block, El Camino, launches their brunch this weekend.  Brunch is available Saturday and Sunday, 11 am-3 pm.  We visited this week and can say the refried beans might be something to fight over, get your own serving.  For those that choose to keep things late, they also recently introduced late night hours to complement their weeknight happy hour (Mon – Fri 5-7pm and 11:30pm to close), which includes $5 Camino Margarita, $5 Negra Modelo (draft), $5 Red or White Wine by the Glass, $5 Rail Drinks, $3 Tecate Tall Boy, $1 Chips & Salsa. They have also started offering LATE NIGHT TACOS daily: Sun – Thur from 10:30 to 11:30pm, and Fri & Sat 11:30pm – 12:30am.
Category: Announcements, Brunch, Washington D.C.
Johnna French is a Harlem NY native with deep roots in Panama, Washington, DC and North Carolina. All four places have heavily influenced her life and the foods she loves today. After graduating Howard University School of Law and beginning her life as a young professional in the city she was led to start Johnna Knows Good Food in November 2007 to keep family, friends and colleagues updated on where to go and what to eat while dining in the nation's capitol. French, who still practices law, leads a team of three writers to cover the ever expanding Washington, DC food scene. French has been featured in print and television, appearing in Washingtonian Magazine and is a regular contributor to various local TV affiliates including WUSA 9, FOX 5 DC and WJLA (ABC Affiliate) News Channel 8. During the 2016-2017 football season, Johnna aired on Comcast Sports Mid-Atlantic (CSN) show, Redskins Life, as the weekly tailgate host. Johnna is currently a regular contributor to the FOX Baltimore Weekend morning show.
---