Vietnamese food is one of those heavily under explored Asian cuisines like Filipino and Malaysian; yet, as the resurgence of interest continues with Southeast Asia, these flavors will continue to be reintroduced into mainstream eating trends during 2015. With its fast casual approach Bonmi is onto something as predecessors like Sweetgreen, Cava, and Luke's Lobster have done extremely well through a similar business model. Replicating the flavors featured on their food truck, proteins are slowly stewed in different broths that contain ingredients like lemongrass, garlic, and basil later to be topped by crisp vegetables such as daikon, bean sprouts and cilantro. However, Bonmi goes the extra mile by including local Lyon Bakery's warm, chewy, and airy baguette. Here are a few of our favorite things pictured below: (Vietnamese Coffee and Hibiscus Tea not shown.) Insider tip: Order a half and half banh mi where you can order two proteins, great for trying out other combinations while keeping your favorite in the mix.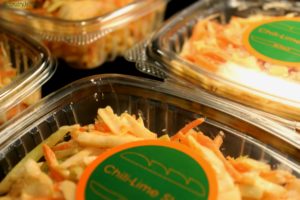 Chili-Lime Slaw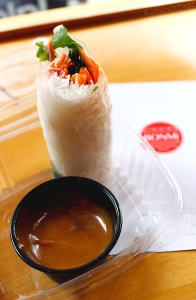 Spring Roll w/ peanut sauce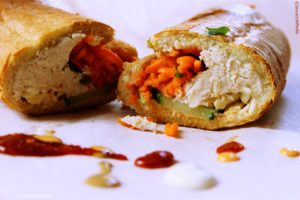 Bahn Mi (Half/Half)
Bonmi
900 19th Street NW
Washington, DC 20006
Category: Asian, restaurant reviews, Washington D.C.
An ambitious freelance photographer who just happens to be a football fanatic, an avid baker, concert junkie, and wanderlust. "I can't stand people who do not take food seriously." ~Oscar Wilde
---