The space that once belonged to Bangkok Joe is now being occupied by Mama Rouge and to be frankly honest, it has made me forget the old face.  Maybe it is the sea urchin chandelier taking centerfold in the decor or the craft cocktails that make you want to devote more time to the bar versus the main dining space.  It is the new hot spot on Georgetown's waterfront.  I repeat, it is the new hot spot on Georgetown's waterfront.  Why am I so strong in my pursuit of getting readers to understand this?? The RIBS.  They are the best thing around these parts since Farmers, Fishers, Bakers introduced the District to fried chicken served with honey.  The ribs literally fall off the bone and not to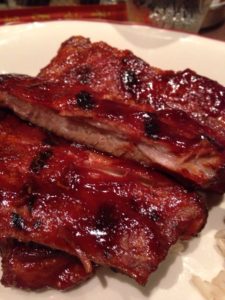 sound so cliché, but they melt in your mouth.  They are seasoned with just enough sugar to let you know you are still at an Asian dining establishment but the way they fall off the bone takes you back to your last hole-in-the-wall BBQ pit.
The unique thing about Mama Rouge's is that it combines the cuisine worlds of French and Asian fare.  It was kind of confusing to see mussels and pommes frites on the same menu as Thai Chicken Wings.  Totally different ends of the spectrum that can be attributed to Chef Aulie Bunyarataphan's, owner and executive chef, upbringing with her grandmother in Southeast Asia and her French professional culinary training.  Contrary to my initial judgement of the concept, it actually works.  I like the new wave of DC restaurants that are making dining an all-inclusive experience by combining unique cuisines in one space.  Who wants to switch parking spaces when your cravings for mussels and frites are teamed up against dumplings??  This is where Mama Rouge comes in so you do not have to change that meter.  Bon appetit.
Category: restaurant reviews, Reviews, Washington D.C.
Johnna French is a Harlem NY native with deep roots in Panama, Washington, DC and North Carolina. All four places have heavily influenced her life and the foods she loves today. After graduating Howard University School of Law and beginning her life as a young professional in the city she was led to start Johnna Knows Good Food in November 2007 to keep family, friends and colleagues updated on where to go and what to eat while dining in the nation's capitol. French, who still practices law, leads a team of three writers to cover the ever expanding Washington, DC food scene. French has been featured in print and television, appearing in Washingtonian Magazine and is a regular contributor to various local TV affiliates including WUSA 9, FOX 5 DC and WJLA (ABC Affiliate) News Channel 8. During the 2016-2017 football season, Johnna aired on Comcast Sports Mid-Atlantic (CSN) show, Redskins Life, as the weekly tailgate host. Johnna is currently a regular contributor to the FOX Baltimore Weekend morning show.
---