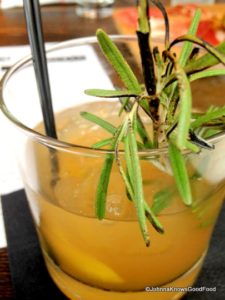 Silo is the new kid on the block.  Actually, it might be the only kid on the block now that I think of it.  That does not take away from the competition it has on the east and west of it in the Mount Vernon DC neighborhood.  Rustic in style and classic in cuisine, Silo allows the two worlds to collide without being too casual nor too pretentious in flavor.  Recently, JKGF visited for some R&R after an extremely trying day and we are happy to report, Silo made our day.  Here are a few things we suggest ordering when you visit:
Butcher's Cut of the Day. This is the best thing on the menu.  The restaurant prides themselves on picking nothing but the freshest, local ingredients and the meaty portion of the meal is no exception.
Rosemary in Fashion. Perhaps the bar would be our favorite part of the meal.  Not because we're lushes but because the drinks actually have character.  The Rosemary in Fashion is exactly what it suggests:  an old fashioned with a highlight on the herb rosemary.  If you do not like rosemary, stay away.
The Chef's Pasta Dish of the Day (if available). As I stated above the restaurants boasts the freshest of the fresh, so the mushrooms for my risotto were fresh out the box before they came to my table.  The Chef Michael Walters informed me that the restaurant only has one freezer on the premises that is strictly for ice cream or frozen treats for the desserts.  No freezer food here!
Category: restaurant reviews, Reviews, Washington D.C.
Johnna French is a Harlem NY native with deep roots in Panama, Washington, DC and North Carolina. All four places have heavily influenced her life and the foods she loves today. After graduating Howard University School of Law and beginning her life as a young professional in the city she was led to start Johnna Knows Good Food in November 2007 to keep family, friends and colleagues updated on where to go and what to eat while dining in the nation's capitol. French, who still practices law, leads a team of three writers to cover the ever expanding Washington, DC food scene. French has been featured in print and television, appearing in Washingtonian Magazine and is a regular contributor to various local TV affiliates including WUSA 9, FOX 5 DC and WJLA (ABC Affiliate) News Channel 8. During the 2016-2017 football season, Johnna aired on Comcast Sports Mid-Atlantic (CSN) show, Redskins Life, as the weekly tailgate host. Johnna is currently a regular contributor to the FOX Baltimore Weekend morning show.
---