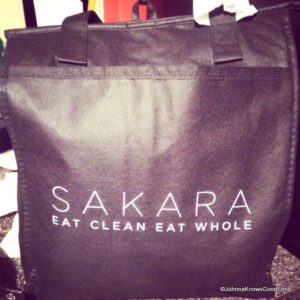 Anything that says "Victoria Secrets Fave" in the headline alongside wanting me to give it a try already has me sold.  At least its sold my curiousity.  The struggle of being a food blogger and keeping a relatively healthy weight/lifestyle is one of the toughest things I have had to do in my life!  If you are not a food writer/blogger, you will not understand the struggle.  Eating healthy foods that taste good can be a challenge as well, especially when some of the places you visit have some of the best cuts of meats and freshest cheeses the palate could ever taste.  It is hard to resist and even harder to get the weight off.  All of this rant is to say, I absolutely welcomed Sakara Life with open arms.
Victoria Secret models use it?   Yes, absolutely, please, get this in my body! (Have you seen that fashion show?!? Ahmazing bods galore.)  Now that I have a regular workout routine, the food part is the challenge.  Not because I do not know what's healthy and what is not, but my schedule and cravings do not align all of the time.  Sakara is a meal plan that can be ordered on a weekly basis, arriving at your door fresh and ready to eat.  No need to worry about heating up the dishes, Sakara is made for the person on the go.  Grab your plate, which is labeled with what time of day it should be eaten (breakfast, lunch, dinner) and go.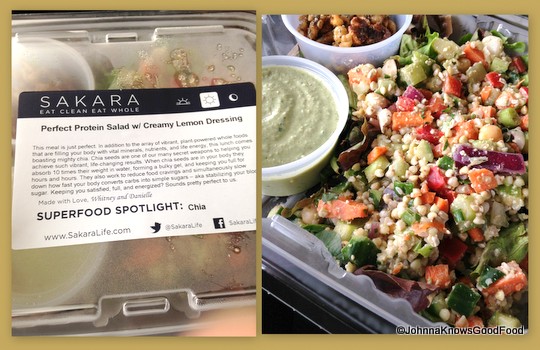 Between having a full time job and working with JKGF in the evenings, it leaves little to no time to worry about what I'm going to have for breakfast or lunch.  Sakara made that incredibly easy with the seamless delivery to my building and the labeled meals.  The labels also included exactly what was in each dish and why it was included in that dish.  One meal, for instance, highlighted chia seeds, which absorbs 10 times their weight in water keeping you full for hours and hours.
The best thing about Sakara is the food was actually good!  I use the word actually because most programs like this are a bitter disappoint full of foods that are bland and pack on a whole bunch of rabbit food to sike you out.  Sakara does not do this where I constantly wondered what the brainstorming process was like for Whitney and Danielle (the creators of Sakara Life) when they created these dishes.  How creative and awesome to pair flavors like avocado and chick peas to make a creamy dressing?  Loves it.
The downside of Sakara?  Two flaws I found with Sakara were 1.  They do not post the calories; and 2.  There was not clear direction on whether the dishes should/could be heated.  I read on their website the rational for not posting calories, but as a girl who is struggling with the Fitness Pal life and this food life, calorie counts are imperative.  I just improvised in my calorie counter.  As for heating up the food, Sakara informed me that their products are made for women on the go so there is no need to heat up the food unless you want to.  The food did taste fine either way so I suggest consuming however you like your food.
Are we about the Sakara Life?  Absolutely.
*The Sakara Life launches in D.C. on November 1, 2014.
Category: health concious, Product Review, Reviews
Johnna French is a Harlem NY native with deep roots in Panama, Washington, DC and North Carolina. All four places have heavily influenced her life and the foods she loves today. After graduating Howard University School of Law and beginning her life as a young professional in the city she was led to start Johnna Knows Good Food in November 2007 to keep family, friends and colleagues updated on where to go and what to eat while dining in the nation's capitol. French, who still practices law, leads a team of three writers to cover the ever expanding Washington, DC food scene. French has been featured in print and television, appearing in Washingtonian Magazine and is a regular contributor to various local TV affiliates including WUSA 9, FOX 5 DC and WJLA (ABC Affiliate) News Channel 8. During the 2016-2017 football season, Johnna aired on Comcast Sports Mid-Atlantic (CSN) show, Redskins Life, as the weekly tailgate host. Johnna is currently a regular contributor to the FOX Baltimore Weekend morning show.
---